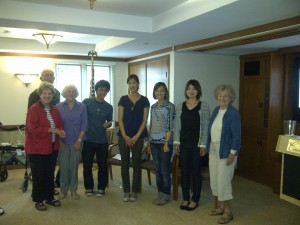 Every month here at EC San Diego we pick a different country and culture to present to a local retirement facility.  This is a great volunteer activity where the students are able to give their time to the residents of La Jolla.  The students spend a lot of time researching their topic, learning the English they need to present their topic, and preparing a Power-Point presentation.  This month's presentation was on Japan an
d we had 4 students who did a fantastic job!!
Here are the comments from one of the students.
Daniel,
I appreciate you for supporting our presentation !
I am really glad to have a precious experience, though it made me nervous and I wasn't sure if I could do my best or not.
Anyway, I enjoyed it and learned  a lot of English, especially speaking.
Public speaking skills are most attractive for me, so I will keep doing these exercises as much as I can.
Comments
comments