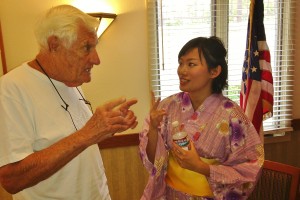 Yesterday's installment of EC San Diego's student volunteer program 'Country and Culture' at local La Jolla retirement home Casa De Mañana was a smash hit! Five ECSD Japanese students presented on their country, sharing with ECSD staff, students, and Casa residents different aspects of the culture and history of Japan. This 'Country and Culture' presentation drew the largest audience the program has ever had, with over 35 students, 5 teachers, and 20 Casa residents in attendance. Each student presenting put in countless hours preparing their presentations. The Casa Presentation program not only allows students to share their culture with the community – it also allows them to practice and improve their English language skills in every area!
The students worked on English reading skills while researching topics, refined their ability to write in English through their presentations, and practiced English pronunciation as they prepared to speak in front of an audience. The residents of Casa, all native English speakers, commented on the excellent quality of each student's pronunciation skills!
EC San Diego is so proud of the 5 students who presented yesterday! Thank you to these five students for all their hard work:
Xiaochi Xie (Christina) – Festivals in Japan
Koji Kobayashi – The Japanese Education System
Saki Yabiku – Okinawa
Mizue Sato – The Economics of Japan
Marina Ueda – Japanese Beauty
EC San Diego provides many opportunities to improve students' English outside the classroom with an extensive activity and volunteer event calendar each month. "Country and Culture' is just one of the many events sponsored by ECSD in which student can choose to participate. In particular, these monthly presentations allow ECSD students to improve their confidence in reading, writing, and speaking English; with practice and encouragement from staff and teachers, students feel confident and comfortable presenting to a large group of people. EC San Diego students use that new-found confidence when speaking English to share not just facts about their home, but also their passion and love for their countries and cultures!
Comments
comments