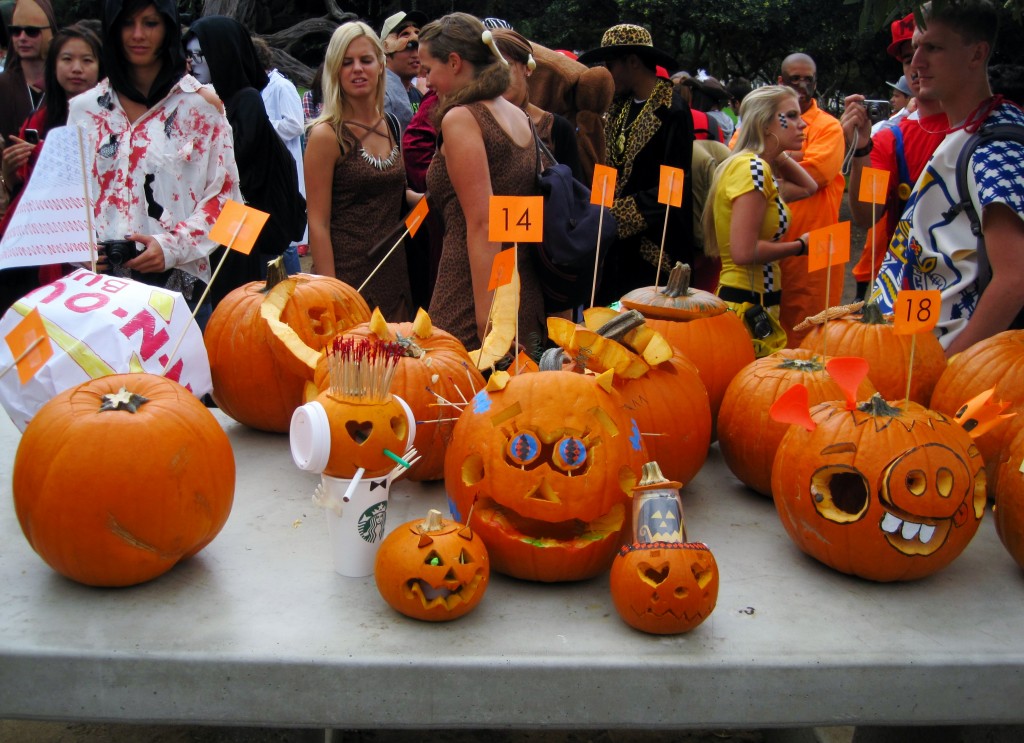 With Fall well underway, San Diego begins to liven up even more than usual as we enter the last few months of the year.  Out of those months, October is one of those during which the city goes all out in celebrations. From Oktoberfests to Haunted Trails, there are tons of festivities – particularly Halloween events – for ECSD students to attend. The best part: you can practice your English with the locals AND dress up in your crazy costume!
Because ECSD cares about your month-long Halloween experience, we have already done the research for you and prepared a list of some of the festivities around San Diego. Make sure to mark these on your calendar, and get ready to get your "boo" on!
1) The Haunted Hotel:
September 27 – November 2, 2013
6:00 PM to 1:00 AM;  time varies by day of the week
Gaslamp Quarter
Located in the Gaslamp Quarter, the Haunted Hotel was named one of the top 13 haunted houses in America by Haunt World magazine. Ride the freaky Hellevator or explore the different haunted rooms, but be prepared to have your heart pounding the entire time.. amidst your own screams! The hotel is so jam-packed with scary effects that it is not recommended for children under 10 years old. Are you ready?
2) Ocean Beach Oktoberfest:
October 11-12

Friday: 4:00 PM – 10:00 PM; Saturday:  10:00 AM – 10:00 PM
Mission Bay
Who doesn't want to party for two days straight? Starting on Friday, Oktoberfest will open up with great music by the finalists for the Beer Garden Band Slam, while Saturday will start with 2nd Annual Brat Trot Beach Run, a fundraiser to promote local youth sports. You can feast on bratwursts and participate in other Oktoberfest activities, and there will be performances by local artists and food provided by local craft vendors, all day long. The outdoor area is free, and admission to the beer garden is only a $3 donation, which will go to the Ocean Beach community. Time to hit the beach again!
3) The Haunted Trail of Balboa Park:
September 27 – November 2, 2013; ECSD will attend October 23
7:00 PM to 11:30 PM
Downtown
The Haunted Trail will leave you trembling amongst gnarled trees and twisted groves. If haunted houses don't faze you, then the open wild awaits you with terrors galore. Take a nighttime walk through Balboa Park…who knows what lingers in the dark. Watch your back and make sure your friends are close! Along with the trail, you can try to find your way through"The eXperiment," which is a maze that will not only confuse, but also terrify you!
Go with ECSD! ECSD will attend The Haunted Trail on October 23, 2013. Tickets are $20. You'll want to go with your friends and classmates on this terrifying trail

!
4) Scream Zone at the Del Mar Fairgrounds:
September 27 – November 2, 2013
7:00 PM
Del Mar
The Scream Zone is San Diego's largest Halloween haunted attraction. Its scares and scenes are different each year, with new ones continuously added on. The Scream Zone is made up of 3 different attractions: the House of Horror, the Haunted Hayride, and the Chamber. Explore the haunted house, weave through the living barnyard, or hop on the largest San Diegan spinning tunnel. Here at the Scream Zone, there are endless opportunities to scream your head off – want to get started?
ECSD, get your October festivities started!!
Comments
comments