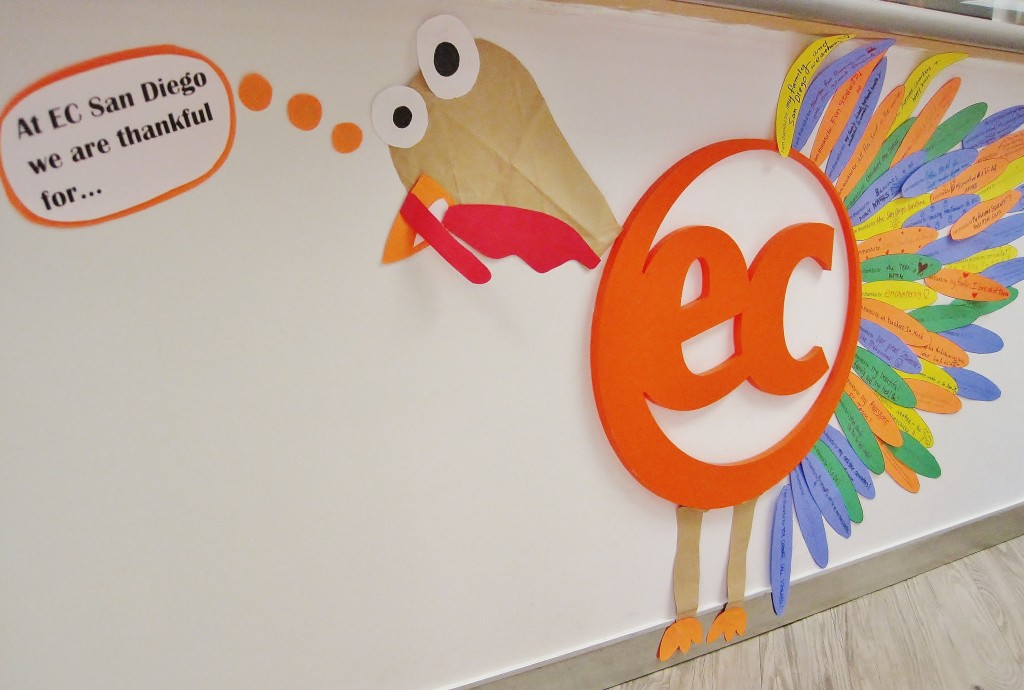 During the Thanksgiving holiday, EC San Diego encourages students to participate in the holiday by expressing what it is they are most thankful for.
Students, teachers, & staff fill out a feather and attach it to ECSD's "Thankful Turkey" (see photo above). And our turkey is growing! Read below to find out what ECSD appreciates most.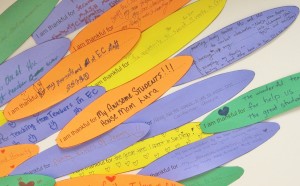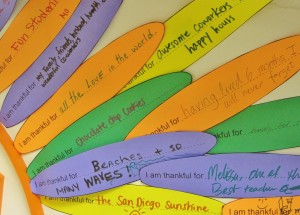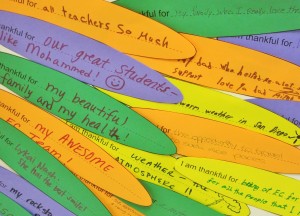 "I am thankful…"
…for my family and San Diego weather.
…for fun students!
…for the opportunity [to be] abroad for 7 months, and having my friends and family who I can always rely on.
…for Saleh and our classmates and Nick and Rebecca.
…for all the love in this world.
…for awesome co-workers and happy hours!
…for EC One Love.
…for the wonderful teachers at ECSD who help me and for the great students I have met.
…that ECSD hired such nice people.
…for my family and friends.
…for Melissa, one of the best teachers ever.
…for the beach and the sun and the waves.
…for my family and friends.
…for my family and friends, good health, having hope and faith.
…for Love, Friendship, and Humanity.
…for Lykai Nash – she has the best smile!
…for our great students – like Mohammed !
…for having such fun & crazy roomies.
…for this great time with my classmates in & out of school – FCE2 you are the best! I'm gonna miss you.
…for my family, I love all of them.
…for my wife, my son, and for the fact that I work with wonderful people at ECSD.
…for Daniel's help.
…for having had this experience at ECSD.
…for learning the cup song, meeting lovely teachers, escaping my family, and having a good time in San Diego.
…for an unforgettable time in San Diego.
…for having lived six months I will never forget.
Every day, we at ECSD are so thankful for all of our amazing, talented, and inspirational students! Have a great Thanksgiving, everyone!
Comments
comments