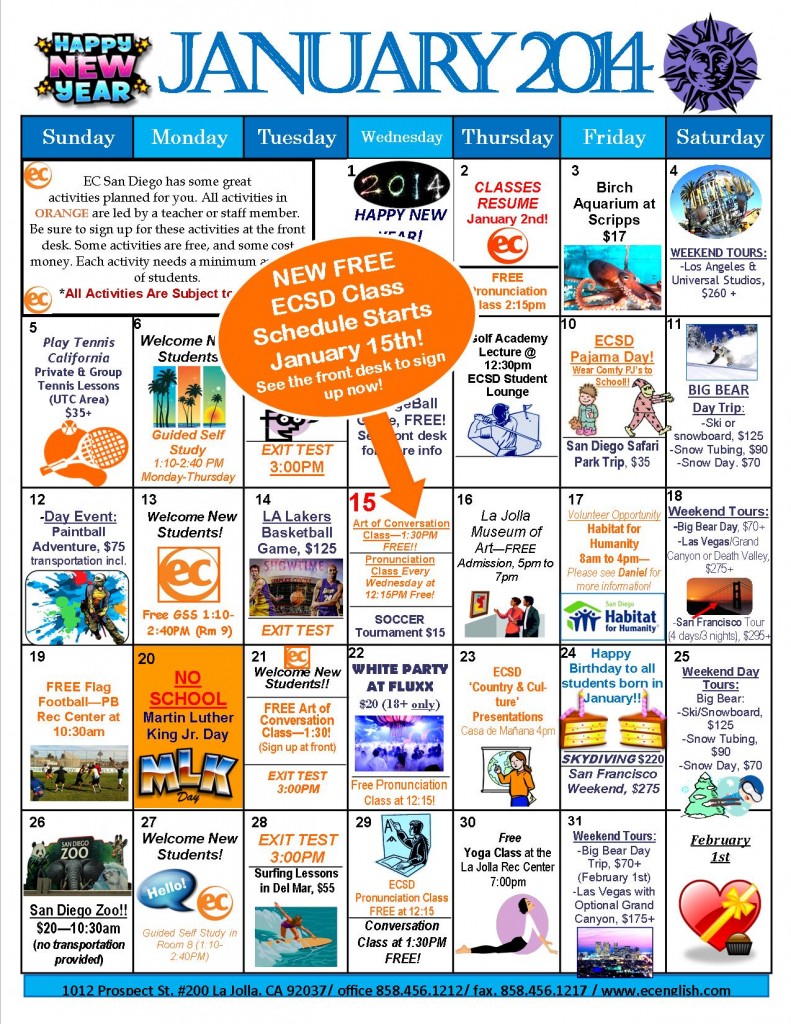 As a student at EC San Diego English School, you're here to learn and excel in the English language. As your biggest supporters, we want to provide every opportunity for you to practice and become comfortable speaking the language; that's why we offer free English classes every week for you to do so! Today marks the beginning of a new free class schedule for the new year, so make sure to add these to your calendar:
Pronunciation Class: Wednesdays at 12:15 PM
Taught by Teacher Danica, this class will help you with your pronunciation. Each class focuses on one sound, and you will learn how to say and use different English words correctly. Do you have trouble pronouncing certain vowel or consonant sounds? This class is for you!
Art of Conversation Class: Tuesdays/Wednesdays at 1:30 PM (switches every week)
Led by Teacher John, this class is strictly an English-Only Talking Zone! Come and talk, talk, and talk some more; this is a class where you can practice speaking in English with your classmates and teacher for 45 minutes. Attend and learn to be a great conversationalist.
Guided Self-Study:  Mondays, Tuesdays, Wednesdays, and Thursdays from 1:10 PM – 2:10 PM in Room 9
Bring in your homework to work on, or ask a tutor about skill-specific materials. Sign-in to get extra participation points in your core class for attending. Remember: no cell phones allowed!
At EC San Diego English School, we want to see your English skills soar to new heights. You can also opt for English private lessons in San Diego. Sign up for these classes at the front desk. Take advantage of them to perfect your speaking skills! Also, check out the calendar for additional activities that are happening in January, like free flag football on January 19th and the San Diego Zoo on the 26th.
Comments
comments