Twenty-year-old Philip Kyburz shares his experience while studying at EC San Diego for the past month…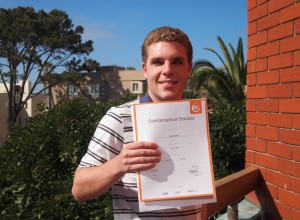 "I think I improved my English a lot, especially my speaking."
Philip spent much of his free time surfing, being outdoors, and enjoying all that San Diego has to offer!
"The atmosphere here is really nice. It's like school and vacation at the same time. I think San Diego is one of the best cities."
Thank you for sharing, Philip, and congratulations on all your success!
~
Students who come to EC San Diego will be able to improve their English and have fun while doing it! To learn more about how to study English at EC San Diego, check out English Language Centres, San Diego.
Comments
comments