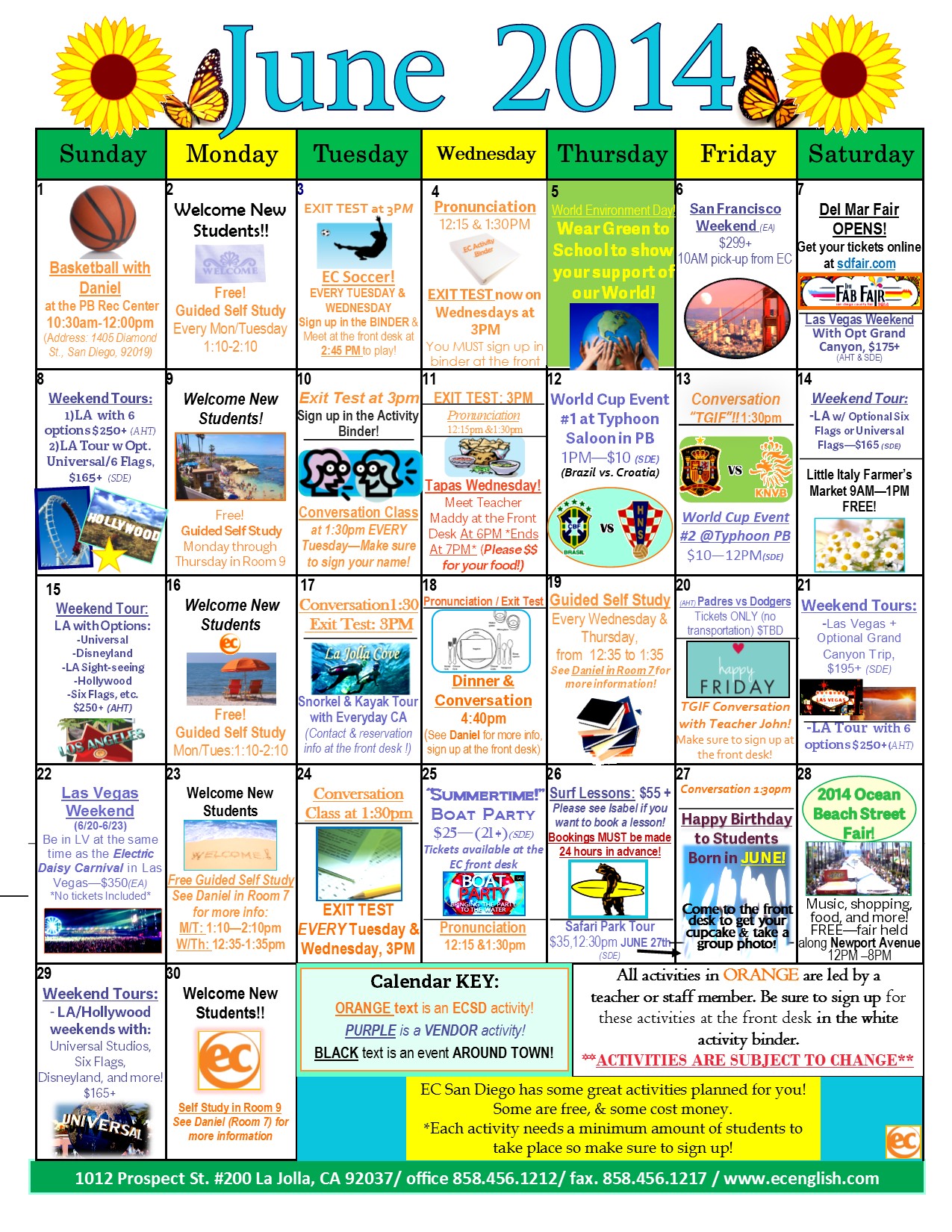 Check out EC San Diego's new June 2014 Activity Calendar!
Highlights include:
Still Going Strong: Free Classes Every Tuesday, Wednesday and Friday!! Remember to sign up at the front desk!
NEW: Exit Test on Tuesdays and Wednesdays at 3pm! All General English Course students must take the Exit Test if they are at EC for 8 weeks or more.
June 5th: World Environment Day! Wear Green to school on Thursday, June 5th, to show your support of our environment!
June 4th to 6th: "Going Green" guessing game! Help us raise funds for World Environment Day. EC San Diego will match all funds raised by this event!
June 7th: the Del Mar Fair Begins! Get your tickets to this amazing cultural event at the San Diego Fair website
June 11th: "Talk and Tapas" with Teacher Maddy! Enjoy incredible tapas & incredible conversation with fellow EC San Diego students at Whisk-n-ladle in La Jolla! Meet Maddy at the front desk at 6pm.
June 12 & 13th – World Cup Events! $10 admission to the game at Typhoon Saloon in Pacific Beach and 1 drink ticket.
June 13th & 27th: TGIF Class, Free! "Thank Goodness It's Friday" Conversation Class at La Jolla Cove – meet Teacher John K. in Room 2 at 1:30pm.
June 28th: Ocean Beach Summer Street Fair! Get out with the local San Diego crowd to enjoy the best food, shopping, beer, and entertainment San Diego has to offer
EC San Diego knows that learning English in San Diego also means getting to know the lifestyle, culture, and language of San Diego and of California.
Now we are ready to study English in San Diego this summer – so let's go!!
Comments
comments