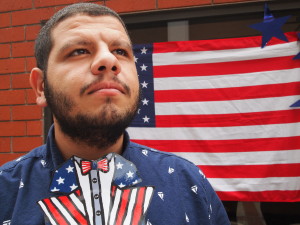 Most students of EC San Diego are unaware that our very own Academic Assistant, Andrew Yossef, was born and raised in Egypt! At the age of 18, he moved to the United States with his parents and younger sister. Upon arrival, Andrew was excited to immerse himself in American culture; however,  transitioning into this new life brought about many challenges.  Eight years later, Andrew has gained much insight from his journey thus far.
Andrew offers encouraging words to EC students who may be having a difficult time adjusting to life in America: "With any new experience comes feelings of unease. You have one of two options: avoid the obstacle or face the obstacle. You can't figure out everything on your own. Don't be afraid to ask for help or be vulnerable. Accept the process rather than rushing to the finish line."
Andrew also gives advice for students on how to improve their English speaking abilities. Although his native language is Arabic, Andrew took English classes growing up. "Understanding grammar is one thing, but using it in conversation is another." Andrew encourages students to first and foremost speak with locals. Learning the art of conversation is essential to enhancing your understanding of the English language. Andrew also encourages students to read lots of books. When coming across a word that you don't understand, look it up in the dictionary or on the internet.
Thank you for taking the time to share your experience with us, Andrew! EC loves having you as Academic Assistant!
Comments
comments