Meet our newest Student Services Summer Intern, Lauren!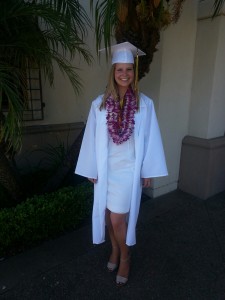 A quote that Lauren lives by : "Be who you are and say what you feel, because those who mind don't matter and those who matter don't mind." – Dr. Suess
Lauren is a San Diego native and recently graduated high school this past semester. She is looking forward to going to California State University at Chico this coming fall. While at college Lauren plans to major in Nursing. When asked why she chose nursing as her major, she stated that "My family inspires me to become a nurse because many of my family members are nurses themselves. I want to help others and it seems like a rewarding job to me." Lauren's desire to help others is what drove her to intern at EC helping ESL students in San Diego this summer. When asked what interested her about working here, she said that she wanted to help make our international student's experiences as fun as it could be for them.
Some of Lauren's hobbies include watching movies, running, hiking, and going on adventures. One of her favorite adventures was when she traveled through Europe. While abroad, she journeyed to Switzerland, Germany, and Italy. One of her favorite parts of the trip was hiking the Swiss Alps. She also had the pleasure of being in Germany during the World Cup in 2006. She enjoyed being around the excitement of the crowds and the hype that came along with the event.
One of Lauren's favorite things to do in San Diego is try out different restaurants. Out of all the places she's dined, her two favorites are Stacked and Fogo Brazilian SteakHouse. Stacked is a burger joint where you are able to customize your order by the touch of an iPad. The Brazilian Steakhouse is an "all you can eat" restaurant where the servers come around with a variety of meats for you to choose from.
~
To learn more about Lauren, stop by the front desk and say hello!
Comments
comments