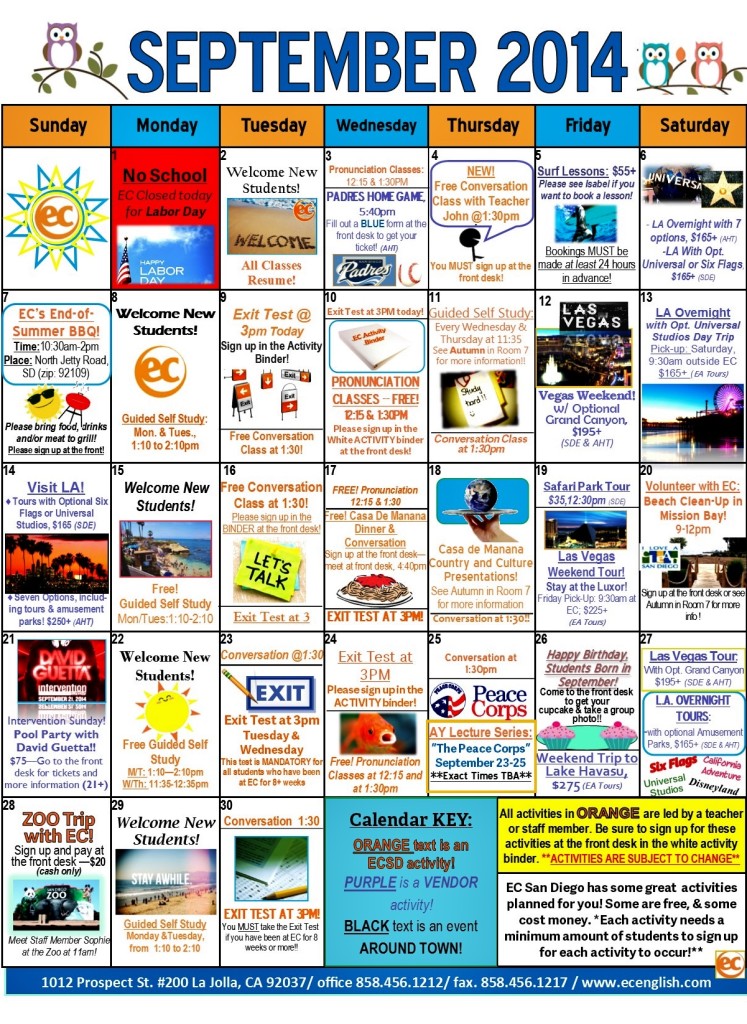 September is another great month of the year to be at EC San Diego!
Our new September Activity & Tour Calendar is OUT!
Get your copy at school to discover fun Fall 2014 events, activities, and trips – these will only add to students' ESL learning in our full immersion English courses!
**Please note that on Monday, September 1st, EC San Diego will be closed for the US Labor Day Holiday 
Every Tuesday

AND

 Thursday in September: We added another Conversation Class to our calendar! Learn new words in English & practice your conversation skills every Tuesday and Thursday at 1:30pm! Sign up for Free Conversation Classes at the front desk.
Every Wednesday at 12:15 and 1:30pm – Free ESL Pronunciation classes! Sign up now at EC San Diego's front desk.
September 3rd: Join our partner company American Host Tours for a Padres Game in Downtown San Diego! Tickets are $19 – get your ticket by completing the BLUE form at the front desk!
September 7th: Join EC San Diego Teachers and Staff on Mission Beach for an "End-of-Summer" beach party and BBQ! All are welcome to attend this free event with EC! (Please bring food/drink to share, and if you want to grill please bring your own meat and/or vegetables.)
September 20th: Our Volunteer opportunity this month is "Clean Up Mission Bay"! Everyone is invited to help clean our local beaches from 9am to 12pm. Please sign up to attend! Go to the meeting spot, Crowne Pointe Park, at 8:40am the day of this event.
September 23rd, 24th, & 25th: AY Lecture Series on the "Peace Corps". Please see Autumn in Room 7 for more information.
September 28th: EC School Trip to the San Diego Zoo! Tickets are only $20 – get yours & directions at the front desk starting the week of September 8th!
September's almost here – and we cannot wait!!
Comments
comments