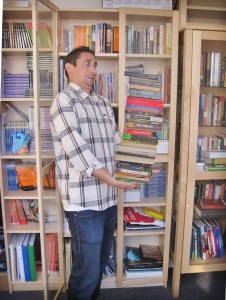 Elective courses are offered to those students who have enrolled in an semi-intensive or intensive program. An elective course focuses one fewer aspects of English learning, compared to those covered in the core classes. The EC English Language Center in San Diego offers many different electives that are based upon level.
For Beginners the courses we offer are:
Survival English: Survival English is focused on learning enough basic English to be able to communicate with Americans and express ones basic needs. In this elective students will learn community rules, regulations and costumes.
This course is taught on Tuesdays and Thursdays at 11:35 and 1:05 by teachers: Danica, Gina, JJ, Karen and Andrea.
Basic Writing: In this course students will learn how to create basic paragraphs, topic sentences, compound sentences, and pronouns. They will do assignments such as writing letters, creating poems, and writing a dialogue out of a scene that a classmate has acted out.
Pre-Intermediate:
World of words: This course is focused on getting students to expand their vocabulary, and learn words that will help enhance their conversations. This class is mostly for students who are only here for a short period of time.
This course is taught on Tuesdays and Thursdays at 11:35 and 1:05 by teachers: Adolf, John V, and Bill.
Living in English: Living in English is a more advanced class of Survival English. This class is focused on a lot of vocabulary and conversation. This class was created to help students feel comfortable expressing themselves while here in America.
Intermediate:
Academic Skills: This course focuses on practicing different techniques to improve skills and strengthen writing. This class is also taught for Upper Intermediate students, and teaches them how to write at the University level.
Academic Skills is taught on Mondays, Wednesdays, and Fridays at 11:35 and 1:05. Taught by: Silvia, Adolf, Aubrey, Donna, JJ, and Wes.
Culture: During this class students practice their conversational skills and vocabulary by learning about american food, fashion, music, social norms, and interests.
This class is taught on Mondays, Wednesdays, and Fridays at 11:35 by teacher John V.
Film studies: In this elective students watch class american films such as The Truman Show, Forrest Gump, The Sandlot and Grease. Watching these films help students with their listening, comprehension, vocabulary. While gaining knowledge about the american culture.
This class is taught on Mondays, Wednesdays, and Fridays by teacher Gina at 11:35.
Media Studies: This is a fun class where students watch TV, read newspapers, and listen to podcasts to enhance their language skills. Some assignments in the past have been making an EC newspaper, and making entertaining videos.
This class is offered by teacher Donna on Tuesdays and Thursdays at 11:35.
Global Citizenship: This elective class is offered for long term students. It is similar to the cultural class offered, but students often do volunteer work. In the past students have done beach clean ups, and helped paint impoverished houses. This class is good for students who are interested in Leadership activities.
This class is taught my teacher Karen at 1:10 on Mondays, Wednesdays, and Fridays.
Upper Intermediate Classes:
Test Prep: This course was designed for students who are not at the Cambridge level yet, but still want to prepare for the IELTS and TOFEL tests.
Get talking: In the 'Get Talking' course students will learn the meanings of idioms, such as "curiosity killed the cat" and "It's a small world." Learning these phrases will help students excel in conversation and understand the true meaning of these phrases.
Business English for Work: While in this course students will learn basic terminology needed to excel in the work environment. Assignments focus on getting students to think about strengths and weakness of businesses and about their own businesses they may create one day.
This class is taught on Tuesday and Thursdays at 11:35 with teacher John K.
We have many great English Courses at EC San Diego, and we hope they help enhance your knowledge of the English Language!
Comments
comments