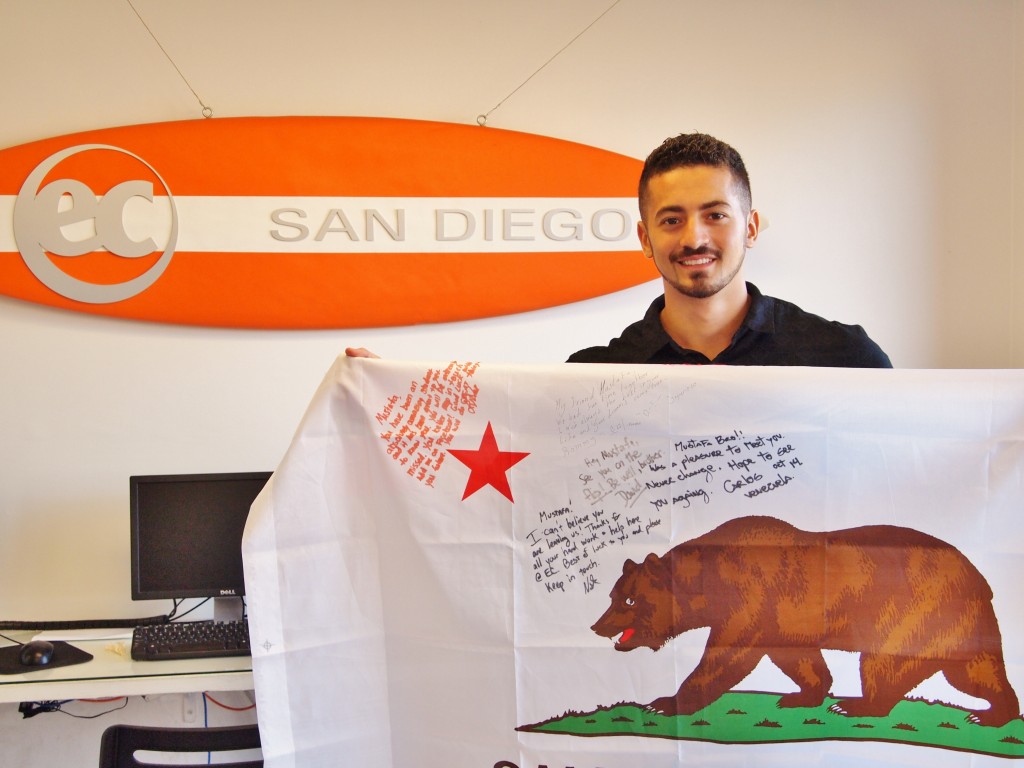 Mustafa with his California State Flag
Mustafa has been a student at EC San Diego for 2 years! Friday October 10th was his last day at school, and we were very sad to see him go.
Read below to see what he has to say about his experience as a student with EC English Language Centers in San Diego:
"Hi, my name is Mustafa. I am 19 years old, from Saudi Arabia, and have been at EC San Diego for almost 2 years! I came to EC as a Beginner student, and I am leaving as a High Intermediate level student!
"I chose EC San Diego first because [of] the weather, the beaches, and stayed in my EC San Diego English course because the people here. They are so friendly! My favorite part of EC were the classes and teachers – they are great! I also made a lot of friends from different countries, who I will keep in touch with for a long time.
"Obviously, I will miss my second family here at EC. I grew up here, I came here when I was 18 years old. I will miss everything.
"To all you thinking of coming to EC…EC San Diego is the best. You will make a lot of friends and you will improve your English.  And you will enjoy it!"
Mustafa returned to Saudi Arabia, and hopes to come back to attend an American university in California.
Thank you, Mustafa! We hope to see you soon!!
Comments
comments