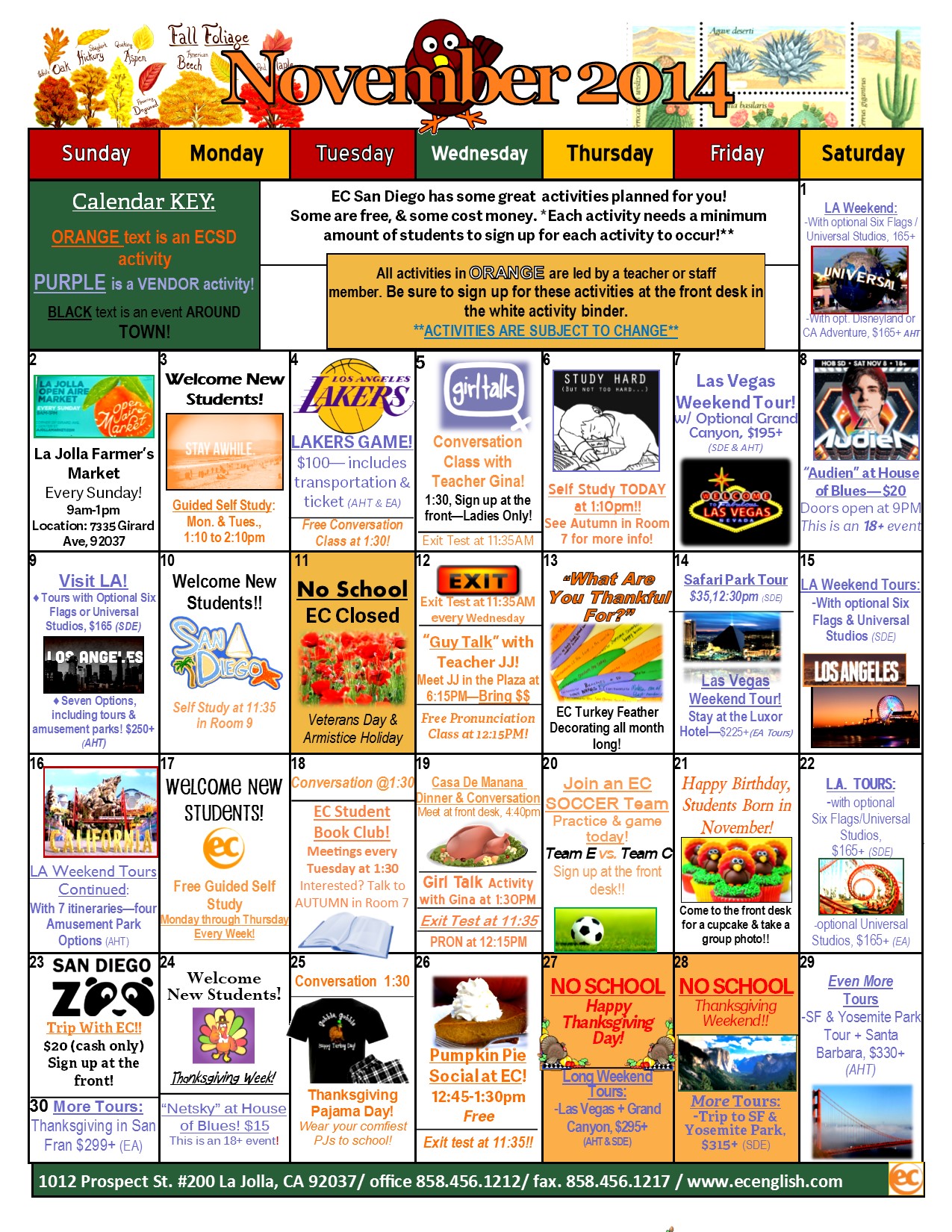 Remember, Remember: It Now is November!
EC San Diego's NEW November Activity Calendar is now available!
Check out the following activities and events that will take your full immersion English course to the next level:
1. November 5th: "Girl Talk" Activity & Class with Teacher Gina! "Venting" in English can be really fun, so sign up at the front desk ladies!!
2. November 8th: 18+ Concert "Audien" at the House of Blues!  This 18+ concert will be held in one of San Diego's BEST venues, the House of Blues! Tickets are $20 – please go to front desk for more information.
3. November 11th: No School – EC Closed for National Veteran's Day Holiday! Tuesday's an off day, everyone!
4. November 12th: "Guy Talk" Activity with Teacher JJ! Meet JJ outside EC at 6:15PM. Please bring money — the "talk" will take place at a local restaurant of JJ's choosing! Sign up in the white binder at the Front Desk!
5. November 13th: Start Celebrating Thanksgiving By (you guessed it) Giving Thanks! Come to the front desk to fill your thankful feather: "I am thankful for _______"…
6. November 20th: EC Soccer Game At The Cove — Team E vs. Team C! Go the front desk to sign your name and choose a team letter. Everyone will meet Student Counselor Ell at the front desk at 1:15pm. All are welcome to join when they can!
7. November 23rd: EC Trip to the San Diego Zoo! Sign up and pay at the front desk – $20, cash only. Remember to ask for directions!!
8. November 25th: Pajama Day at EC! Wear your comfiest nighttime attire to school in celebration of Fall – and sleeping!
9. November 26th: Pumpkin Pie Social at EC! Free pie and whipped cream for all from 12:45 – 1:30pm in the downstairs Plaza. Pie is a traditional Thanksgiving dessert — dig in!!
10. November 27th & 28th: No School – Thanksgiving Holiday & Long Weekend! EC will be closed on November 27th and November 28th. Classes resume as usual on December 1st.
Comments
comments