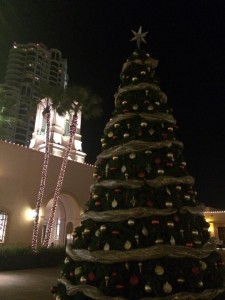 1. La Jolla Christmas parade
In front of the English Center in San Diego  there is a Christmas parade!! The location is pretty good. You will see Christmas arts, crafts, food and Santa!!
December 7th 1:30 pm Right in front of the school.
2.Toyland Parade
At the 51 st Annual North Park, you will be delighted in the most joyful parade. Gliding down University Ave between Utah and Lowa Streets, the parade will feel like Christmas.
December 6th 10am-4;30pm
3.San Diego Zoo Jungle Bells
This is an annual winter celebration at the San Diego zoo. All guests can do many activities of entertainments and enjoy the nightly tree lighting ceremony. The Zoo will be different than normal because it is decorated for the holidays.
December 14th –January 5th the Zoo is open from 9am-8pm.
4.San Diego Bay Parade of lights
There are more than 80 boats brightly decorated on San Diego Bay. The parade will go through from Shelter Island past Harbor Island, the Embercadero, Seaport village, and Ferry landing Coronado.
December 14 and 21, starting at 5;30 p
5.Part of San Diego Big Bay Balloon Parade
Great moments will come alive with the San Diego Big Bay Balloon parade. This event is going to bring world-class marching bands, entertaining drill teams, and enormous balloons more bigger than any of the other parades.
December 26 from 3pm Downtown San Diego
6.Balboa Park December Nights
I definitely recommend joining this event!! EC San Diego will bring many students there. You will see the fantastic view and feel like you're in a winter world.  350,000 visitor are expected to have a great time in the largest San Diego community festival. All of students will participate in cultural experience and enjoying food, Christmas entertainment. If you are interested in the event, ask front desk or me (Akira) and sign up!!!
December 6th at 5pm.
Comments
comments