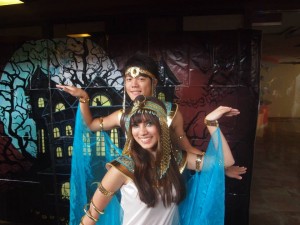 "EC is my first family"
Majdolene Abualfaraj, better known as MJ is a 19 year old student originally from Saudi Arabia. She came to San Diego with dreams of pursuing a career in animation and digital media. She told me  how art is neglected in her country and that she wants to create inspirational stores to inspire and change the world like Walt Disney once did. She says that the world lacks understanding and empathy. MJ stated that, "Art is life, and you can't deny that stories guide the way we live." She hopes that through her stories people will gain insight and compassion for each other.
When asked what she will remember most from her stay, Majdolene told me that the memories she has made at EC are priceless. She went on to tell me that her culture always made her feel like she had to suppress her true identity. "I have always felt like the fictional character, Rapunzel, trapped in a world that I can only see, but not touch. Until I came to EC San Diego. During my travels at ECSD I was finally able to explore and let my personality show, stated, MJ." She went on to tell me that EC teachers are open minded and that the diversity of cultures brings a closer sense of humanity. Even though the friends MJ meet here at EC are from different walks of life, she stated that "their hearts all beat as one." Mj's stay at EC has let her blossom into the person she was always meant to become, and foster friendships that are surreal. Not only was MJ finally able to be her true self and meet amazing friends, but she also went up two levels during the months she studied here in San Diego. When talking to MJ, it is easy to confuse her for an American native. MJ has been accepted into Otis College of Art and Design, in Los Angeles where she will pursue her dreams of changing the world through her creations. Below you will find some of MJ's original artwork, each with its own story.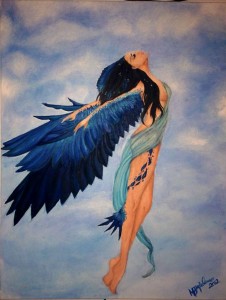 "Blue Bird"
MJ stated, "I purposefully used a siren to symbolize the inner conflicts of a half human (beings cursed with burdens that keep them on earth and prevent the freedom and liberty of flight) and half bird (beings that are too carefree, they are drunk in excessive privileges but are also cursed to be lost wanderers with no sense of real grounding/purpose, desperate to be found. like air, they're everywhere, but don't feel the sense of belonging to a single home). I try and portray her desperation to fly, yet she's somewhat relieved as she obviously displays struggle flying upward… like something is pulling her down."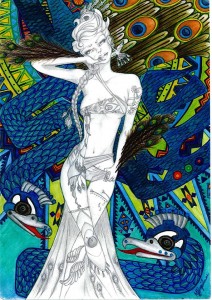 "Peacock Queen"
"A little piece i tried to play and show the contrast between the beauty of the color and colorless."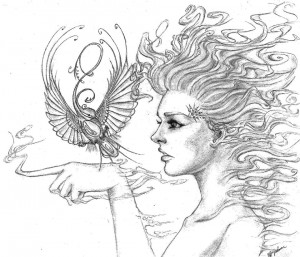 "Fascination"
"Fascination is simply a wind nymph fascinated and curious by the magic of worlds beyond the one she knew her whole life."
"This is Heaven, she's an original character I created for a short animated film I plan to animate the second I learn at Otis she's the female lead in a short fantastic and comical love story of when Heaven and Earth first meet.Her hair moves, flows and morphs according to her mood.
"Earth"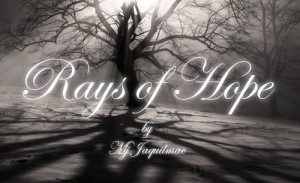 "Rays of Hope"
A poem written by Majdolene when she was only seventeen.
As the sun sets in the bleak, dull grey, Darkness falls yet again, Aversing the sensibility, When precious rays of light reaches their end
Lands of ghostly grey and crumpled dead trees, Whose spirits have been long gone since, Seemingly to spread forever more than seas, Heart sore with pity—those bright days we miss.
The dread, the drab, and the depression, Are too great with heartbreaks and shattered hope. Chests like Tartarus, with tears and years of repression, Many break like twigs of dead trees—others cope.
As I close my eyes as those have before, Seeking release from this ache of endless length, Close to it—I stop—my weakness I deplore, My last reserved hope, fights with determined strength,
The sky usually filled with dark loathsome clouds, Designed like a dome of isolation, From those liberty heavens I heard about, Once compact, now let's down a single light ray sensation,
Upon seeing this marvel in habits of despair, Hopes rises in me in heights never before, This miracle! Showers down on the spot I stand fair, Perhaps the heavens grant me freedom, I implore!
But as the light continue to shine, It mocks me with its superiority, The freedom it grants can never be mine, Hardly reachable with its high seniority,
Bothersome as it is, I bless this ray of hope, As it promises us the existence of such freedom, Frustrated it may be, determined I will cope, I crane my neck as much I can, and try my best to reach 'em,
My hands and arms bound to me, Like invisible chains preventing my grasp, Still, I fight my way to free, Down next to my feet, a new flower blossoms with the hope I clasp.
To view more of MJ's beautiful photos follow her on DeviantART (AquariusMj212), Tumblr (AquariusMj212).
Thank you Majdolene for sharing your beautiful work with us, we hope you visit us at our English Center in San Diego soon! You will be missed.
Comments
comments