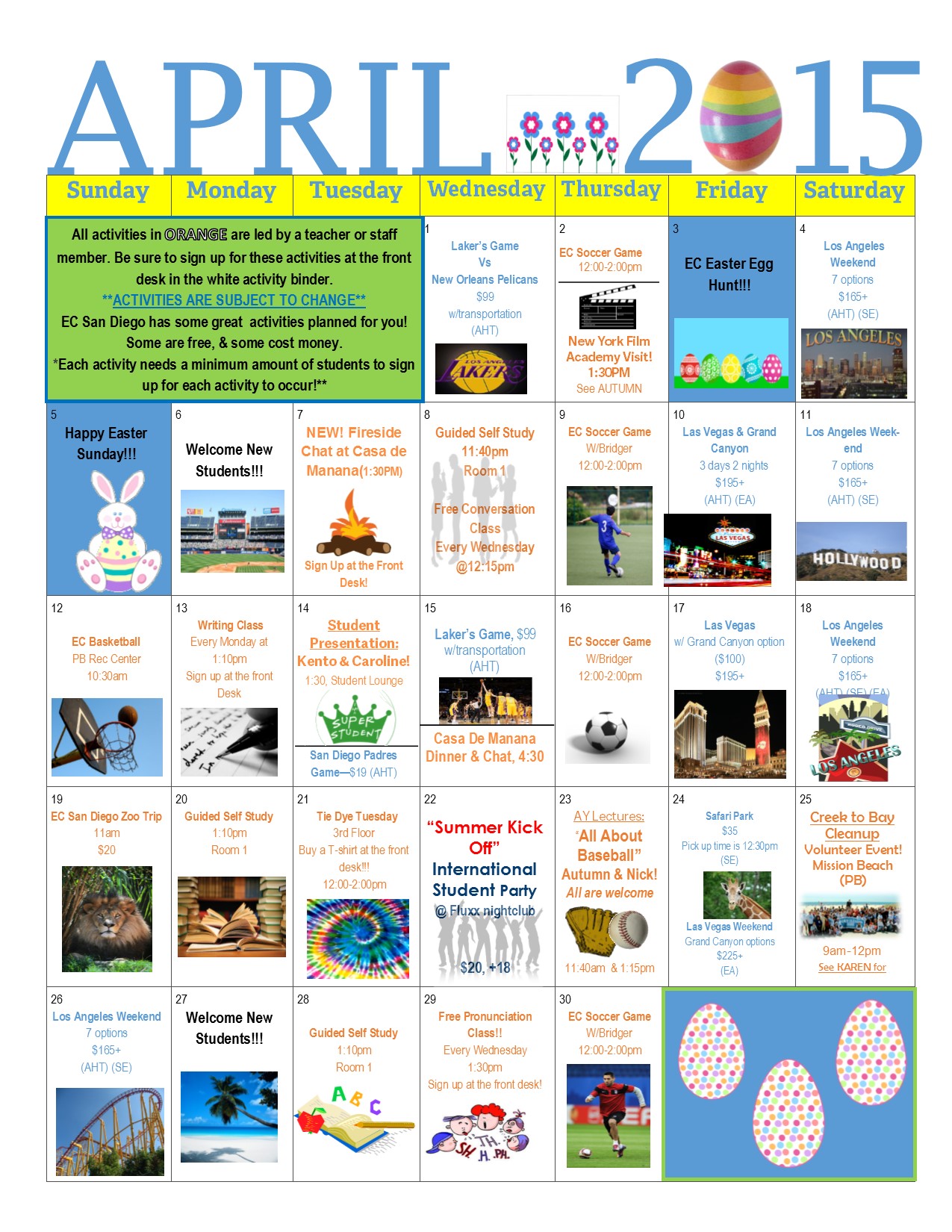 Check out our April Calendar to find out what makes learning ESL in San Diego so special!
April 7th: Fireside Chat at Casa de Manana-  EC San Diego welcomes a brand new volunteer opportunity at Casa De Manana's monthly fire side chat! Sign up at the front desk!
April 9th: EC Soccer Game- Come practice your soccer skills at the cove, every Thursday with Teacher Bridger.  Be sure to sign up at the front desk!
April 10th: Weekend Las Vegas trip– It's finally pool season in Vegas, so make sure you're their for a weekend you'll never forget!!
April 13th: Free Blogging Class-   Interested in blogging, or just need some extra writing practice? Stop by Teacher's Andrea's free writing class every Monday at 1:10pm!
April 14th: Student Presentations-  Be sure to support your fellow classmates, and stop by the student lounge for a student presentation, that will be given by student ambassadors Kento and Caroline.
April 14th: San Diego Padres game- April marks the beginning of baseball, so it's a great opportunity to catch a San Diego Padres' game at Petco Park! Tickets are $19 and can be purchased at the front desk.
April 19th: San Diego Zoo trip:  Visit the world famous San Diego Zoo, tickets are $20 and you can sign up at the front desk.

April 21st: Tie Dye Tuesday: We will be creating Tie Dye T-shirts on the 3rd floor! Bring your own white clothing item or purchase one at the front desk!

April 22nd:  "Summer Kick Off"– San Diego experiences will be hosting a summer kick off party for international students at Fluxx nightclub.  Tickets are $20 and you must be +18 to attend.
April 23rd: AY Lecture- This month's AY lecture, "All About Baseball," will given by Autumn and Nick in the student lounge.  All are welcome to attend!

April 25th: Creek to Bay Cleanup- Teacher Karen's Global Citizenship class will be volunteering to help keep Mission Beach clean from 9am-12pm.  All students are welcome to attend.
Find out more about learning English in the USA.
Comments
comments