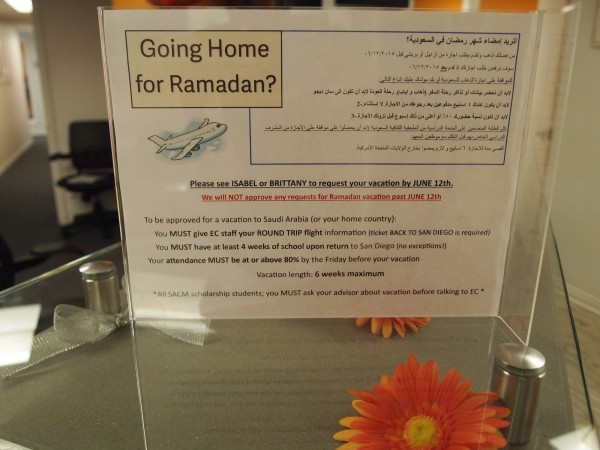 Ramadan begins from Wednesday, June 17th – Friday, July 17th.
What is Ramadan? Ramadan is based on the ninth month of the Muslim year. Fasting is observed from sunrise to sunset. During this time Muslim abstain from eating, drinking, as well as participating in anything that is ill-natured or excessive. The lunar cycle is what determines the Islamic calendar. Ramadan begins when the sighting of the new moon and ninth month of the Islamic calendar occurs.
Thinking of going home to celebrate?  Please refer to the following list of rules!

To go to KSA for Ramadan :
Students can go anytime they want

Vacation dates must be from a Monday to a Friday.

if you are leaving Thursday, June 11, they will have to be absent for that Thursday, 6/11, and Friday 6/12 — vacation will start the following Monday, 6/15

Vacation length is 6 weeks maximum
If you have a SACM scholarship they need to ask their advisor before requesting vacation with EC
Students MUST provide their ticket information for flight TO and flight FROM home country (the round trip)
Students MUST have at least 4 weeks of school upon return to San Diego in order to be approved for a vacation
Your attendance MUST be at or above 80%
For more information on studying ESL in San Diego
Comments
comments