EC San Diego's calendar has arrived! Check out all of our activities for the month of June below!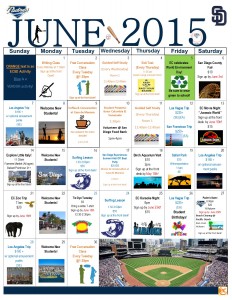 San Diego County Fair on June 6th:  Join us at the annual San Diego County Fair at the Del Mar fairgrounds. There will be rides, food, concerts, exhibits and much more!  Tickets are $10 per person.
Student Presentations on June 10th:  Student presentations on Columbia and Venezuela will be given in the student lounge at 1:30pm.
EC Movie Night on June 13th:  Come and watch the fourth installment in the Jurassic Park series "Jurassic World," at 4pm!
"Explore Little Italy" on June 14th:  Explore Little Italy with your classmates!  There will be a farmer's market from 9am-2pm and a Ballast point brewery tour for those +21 at 12pm.
"Summer Kick off Party" on June 17th:  San Diego experiences will be throwing a summer kick off boat party! Tickets are $25-$35 per person.
Visit Birch Aquarium on June 18th:  Visit Birch aquarium in La Jolla at 2pm.  Tickets are $10! Be sure to have your student ID.
San Diego Zoo trip on June 21st:  Visit the world famous San Diego Zoo.  Sign up and pay by June 18th.  Tickets are $20 and can be purchased at the front desk.
"Tie Dye Tuesday" on June 23rd:  Create your own Tie Dye Tuesday clothing item between 12:30-2:30pm.  Sign up at the front desk by June 18th!  Bring your own white clothing item!
"EC Karaoke Night" on June 25th:  EC Karaoke night will take place at Karaoke 101 in Kearney Mesa at 8pm. Come and sign up at the front desk!
San Diego Padre's game on June 27th:  AY coordinator Autumn will be leading taking students to a San Diego Padre's baseball game.  Tickets are $20 per person.
Volunteer beach clean up on June 27th:  Teacher Karen will lead a volunteer beach clean up from 9am-11am in Pacific beach.
Our Activity program is just one of the MANY reasons to study English in San Diego!
Comments
comments