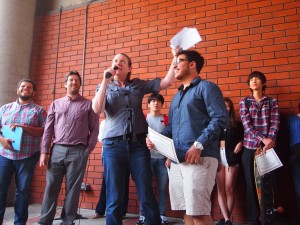 Last week EC San Diego said goodbye to one of our favorite students, Sami Elkhalili. Sami has been apart of the EC San Diego family for the past 9 months.  Sami is an exemplary student who started in the Elementary course his first week and received his certificate in the Advanced course. He was also one of the first members of our student ambassador program and has been an overall pleasure to have here at EC!
Here's what Sami had to say about his experience at EC:
My favorite things about EC are the staff and students and all of the kind people.  My favorite thing about San Diego is the beach and the sunny weather!  My favorite teacher at EC was Bill because he's a kind person and he gives a lot of his time and energy to the students. He had a lot of concern for me and was very supportive especially when I was trying to reach the advanced class.  One of the best things about studying at EC San Diego was being apart of the student ambassador program.  I enjoyed being a student ambassador because I made many new friends from all over the world.  It is a great program because you get to help other students especially those who are new and don't speak English very well.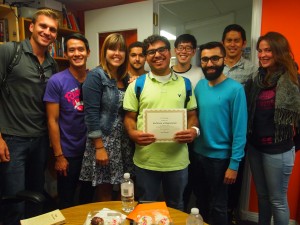 While studying at EC, I also learned how to communicate with students from all over the world.  I will miss all the staff and students especially the student ambassadors who have become some of my best friends.   We are like a family now and I hope I will see them all again someday. Learning English will open many doors for me.  I plan to go to a community college in San Diego which will provide me with a good education and help me own my own business. I want to thank everyone here at EC especially Wes, Kate, Karen, Danica, Autumn, Brittany, Izzy, LyKai, Sophie, Heather, Nick and Andrew.
Sami will be transferring to Mira Costa Community College in San Diego county this fall, and will be majoring in Management and Information Systems.  We are very proud of him and wish him the best of luck!
To learn more about studying ESL in San Diego.
Comments
comments