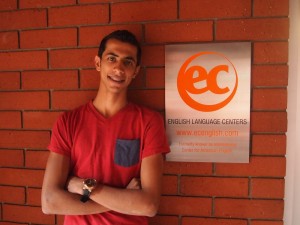 Ibrahim from Saudi Arabia has been studying at EC San Diego for 1 year!  Read below to find out what he thinks about studying English in the USA!
I chose San Diego because of the great weather and because of the location near the beach and Los Angeles and Las Vegas.
I love the activities the most for example the Zoo trip, basketball, volleyball.
I liked going to the volunteer activities such as cleaning the beach and Casa De Manana where you can speak with older people and have dinner with them. I enjoyed listening to them talk about their experiences and their lives.
I would recommend EC to a friend because the staff is so friendly and the teachers are great! My favorite teacher was Rachel because she taught me a lot and gave me the opportunity to improve my speaking and writing skills.
I had a great opportunity to meet people from all over the world and learn about their culture. I plan to visit my friends from Spain, Brazil and Switzerland.
I will remember having friendly staff and teachers and plan to keep in touch with them and the experience of interacting with different cultures and making new friends.
Comments
comments