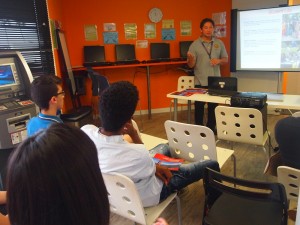 On Friday October 16th, 2015 an San Francisco State University representative visited EC San Diego in order to give a presentation on the merits of attending San Francisco State University.  SFSU is a great place for students to continue to Study English in the USA. See below for some facts on SFSU and hi-lights from the presentation!
SFSU is located in northern California and is home to one of the most multicultural populations in the world, and as such is a great place for international students to continue their education.
The University itself is located in a suburb 20 minutes away from downtown, so students have a chance to study and attend classes in a quiet peaceful neighborhood, but can still experience all of the nightlife, restaurants and cultural activities that downtown has to offer!
SFSU is known for its community service learning and international education.  It has partnerships with various government, business and educational leaders in order to better the University and the community.
In order to attend SFSU students must maintain at least a 2.5 GPA, a TOEFL score of 61 or IELTS score of 6.0 and an official transcript of all schools attended showing completions of courses.
The top 10 majors at SFSU include; Business Admin, Computer Science, Engineering, Biology, Communication Studies, Psychology, International relations, Industrial Design/Arts, English/TESOL and Kinesiology.
For more information on San Francisco State University!
Comments
comments