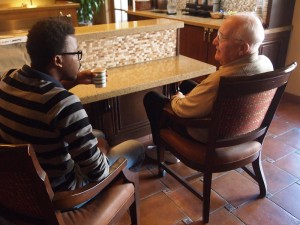 There are many volunteer opportunities for students studying English in the USA. Volunteering while learning English can be very rewarding, some of our students volunteer at various places in the city. Students have opportunities throughout the year to participate in beach clean ups, food drives, and walks/runs for various important causes.   EC San Diego students have the unique opportunity to volunteer once or twice a month at the local retirement home.  Students volunteer to speak English at dinner and over coffee with the residents, who greatly appreciate having the chance to speak with younger people.
One student from Japan is currently volunteering by working in the restaurant at the retirement home.  He really enjoys being a volunteer there because he gets to meet a lot of new people and make new friends.  He says that, it is important to volunteer because you can experience new things and people.  He also enjoys getting to experience and observe the restaurant etiquette in the United States because it is so different from restaurants in Japan.  He would definitely recommend volunteering to all students coming to the United States to learn English.
Volunteering can give students something important to do while they are studying. It is also an opportunity for them to speak with native speakers which is important to improving their English quickly.
Comments
comments