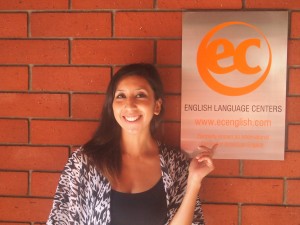 Read below to find out about Chilean student Pia and her experience learning English at EC San Diego for the past six months!
I chose San Diego because my father told me that it was a beautiful place and thought it would be the best place for me because it is a good fit for my personality.  He made a great choice because I love San Diego!  I improved my English a lot because my first level was High Elementary and now I am in Intermediate.
I feel that I have improved a lot because when I first arrived I couldn't speak and I didn't understand anything and now I can talk normally and now people understand me.  I love EC because I feel comfortable. It has a family atmosphere.  It is a place where I can make new friends and if I have a problem I know somebody will support me.   All of my teachers are my favorite and I am so glad that I had these people teaching me because I learned English and more! I made a lot of friends from Japan, Italy, Switzerland, Saudi Arabia, Korea and America.  I could not have asked for a  better experience studying English in the USA.
I will remember everything, because I fell in love with San Diego, it is an amazing place, the people are so nice and every day that I spent here was fantastic. Every time that I was here I felt happy!
Comments
comments