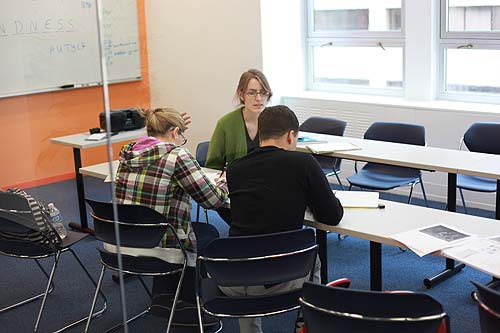 Looking for a good English language school in San Francisco? Take a course at a modern school in a great location!  EC San Francisco is in the Downtown area, just off Market Street.
We're on the entire 18th floor of 100 Montgomery Street. We have 16 big classrooms which hold a maximum of 14 students per class. We also have free Wi-Fi, a self-study room and a cafe on the ground floor.
We have English courses for students of every level (Beginner to Advanced). Minimum course length is one which is great if you only have a short time in the city. For longer stays of over 23 weeks we have an Academic Year and University Access Program. At EC San Francisco there is no maximum length of stay – we're here for as long as you need us!
Our friendly English teachers will make you feel relaxed and confident as you improve your English in fun lessons.
As well as excellent English courses we also have affordable and conveniently located accommodation. After lessons you are welcome to join us on our fun social activities program. Because of our good nationality mix, you'll be able to practice your English with classmates from all over the world.
Come and learn English in San Francisco, make some international friends and have a wonderful experience.
Comments
comments