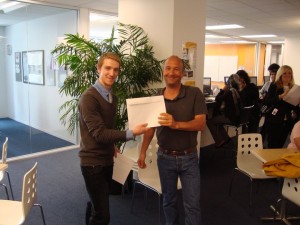 I'm Harrison Smith. I currently teach the Cambridge ESOL examination-based classes here in San Francisco, whilst I also provide weekly extra-curricular pronunciation practice. As some of you may know, when I'm not in the classroom I'm usually occupied elsewhere. Your Student ID Cards, Activities Calendars and the printing of Initial or End Evaluation Forms are likely to be within reach of my (rather small) fingertips. Putting these tasks to one side, I'm usually updating online grammar lessons via this very blog. Having moved to California after teaching for EC Cambridge, I was always looking forward to spending my winter break back in the UK. Fortunately, during my two weeks across the pond I was able to visit two of EC's most popular language centres.
First on my agenda was to stop off and see some of my old colleagues. Madge McClary (Assistant Director of Studies), Natasha De Souza (Director of Studies) and Daniela Sibiriu (Academic Assistant) were just as on the ball as the day I left. Despite being pressed for time, we were able to greet with open arms before I gave them a quick summary of the happenings at our branch in the Bay Area. After a nostalgic return to the Guildhall Chambers by Cambridge's Market Square, I made my way to the school's second building, just a brisk stroll away. It was there I met with Michael Wood (Custromer Service and Admissions Officer) and Vanessza Kaloczy (Young Learning Coordinator). Mike (also an EC blogger) and I exchanged a couple of inside jokes before he filled me in about his role within the company. I took a few snaps with the camera before meeting Vanessza, of whom I had always shared good working relations with during my time in Cambridge. I asked Vanessza: "What makes EC Cambridge a popular destination for students?" She responded:
"Besides the name, if you come from abroad and you're here for a few months, Cambridge is a great place. You get to know the city really quickly. I moved from Hungary four years ago and when I think about it, that's why I like Cambridge. I found my way around and was able to make friends easily because there are so many international students in a city that's quite small".
When asked if she'd like to work at an EC centre in the US, she stated: "Maybe, but it's a bit far away!". Still, I naturally recommended she visit us stateside.
The following day I took the train to from Cambridge to London Kings Cross. Having amused myself for a couple of hours and indulged in a traditional pub lunch at the heart of Covent Garden, I was able to escape the miserable weather before making my way to EC London. The centre's excellent location, both nationally and within the capital itself, is clearly of mass student appeal. Laura Bowkley (Centre Director) gave a warm welcome and made me feel right at home. Similar to Cambridge yet unlike San Francisco, EC London makes use of several venues to accomodate its extensive number of students. After giving me a casual tour of the classrooms and a quick peek into the teacher's lounge, we took a seat in the EC cafe. After Laura mentioned that EC staff receive a 50% discount, I couldn't help but imagine the prospect of having a similar set-up back in Northern California.
The cafeteria provides a great space for students to socialise, whilst the school makes practical use of it by encouraging students to particpate in some of its regular breakfast clubs. I put Laura on the spot a little and asked her to describe the EC brand in three words. In her mind, EC Language Centres can be defined as 'dynamic', 'positive' and of great 'quality'. Having upheld the school's 'core values' in what was, well, almost three words, she definitely hit the nail right on the head!
My time in England, like all great holidays, went by significantly faster than anticipated. Despite this inconvenient reality, I had plenty of positives to take back with me to San Francisco. I had witnessed a company that sustains its high standards from opposite sides of the Atlantic. I got to meet energetic, international colleagues whose enthusiasm to progress mirrored my own aspirations and desire to achieve future learning objectives. Above all, I was able to board a 13 hour flight to SFO confident that the future remains bright for all us within the EC network. Whether you're a student, teacher, member of staff or even comically dressed as our vibrant orange logo for Halloween (Sara Buckingham, that's for you), the best is certainly yet to come.
North America, South Africa, UK or Malta. Wherever you are, pay us a visit and see for yourself.
Quite literally, we go the extra mile.

harrisonsmith@ecenglish.com
Comments
comments