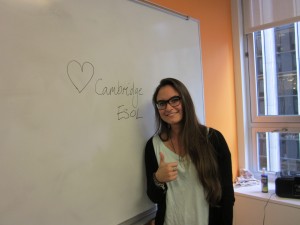 Gina Birrer is currently EC San Francisco's only Cambridge ESOL student. After traveling with her friends over the summer and settling down in California from Switzerland, she's finally getting into the swing of things. As a result of an attendance list that consists of just a single name, Gina begins classes 30 minutes later than
General English students. Nevertheless, with hefty workloads at such a proficient level, it's not all plain sailing! Here's what she had to say about her EC experience so far:
One Intention of my gap year was to obtain as much exposure to English as possible in order to improve my language skills. This is one of the reasons why I am taking the CAE class at EC San Francisco.
As a result of the interesting mix between Asian, Arabic, European and South American cultures, I have the opportunity to acquire a profound knowledge of English in conjunction with learning about nationalities other than my own. I think it it is very important to gain a better understanding of the world around us.
Furthermore, I am positive about the style of teaching within the school and I like that the teachers focus on every student's personal needs. Technical equipment is well adapted and the rooms are modern. One can also join different activities within the school after lessons finish for the day. This creates a good balance between studying and exploring the eclectic city of San Francisco.
I love the unique spirit of San Francisco and I am glad to be here!
Comments
comments