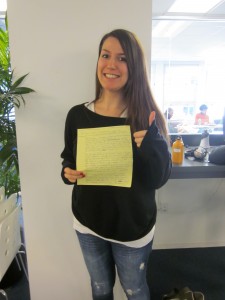 It's the beginning of the week and San Francisco's Advanced class kick things off with some 'Talking Points', centred around visiting the movies. When was the last time you went to the cinema?, How do we define a film as 'successful'?, What makes a good actor/actress? were just some of the conversational topics we covered. Having read an extract from the famous novel 'The Godfather', we looked at a review in our coursebook and analyzed some of the ways in which opinions towards a movie can be appropriately expressed through writing. After expanding on the example provided in 'Just Right'- Advanced, homework was to produce a review of your own. Today I was extremely impressed by all of my students use of English, but with a winner 'promised' to be posted online, I could only choose one.
Anne Peichotta, congratulations! Here is your review which I'm sure everyone will appreciate!
'The Iron Lady', a biographical film about Margaret Thatcher, was released in January 2012.
Directed by Phyllida Lloyd, the film starred Meryl Streep as the first (and only) former female Prime Minister (1979 to 1990), whose performance won the prize for 'Best Actress' (Drama) at the 2012 Golden Globe Awards.
The film tells the story of Margaret Thatcher's struggle to gain attention in the male-dominated political world and her successful approach to break barriers of gender. The story is portrayed through flashbacks of the elder Thatcher, who is trapped in her house and gets sheperd by housekeepers. Most of the time, her dead husband Denis appaears as a ghost and argues with her about her decisions and actions as a politician, as well as a mother and a wife.
'The Iron Lady' portrays Thatcher's life in a highly emotional, almost tragic style. Streep's authentic display of Thatcher, as a brave woman during her ambitious political career and as a fragile, raddled lady is simply brilliant and leaves the audience gasping in amazement. However, this is primarily a result of Steep's acting, rather than Thatcher's political achievements during her time as Prime minster.
By adding original footage of historical events, the film also provides documentary characteristics and thus, teaches the audience about the striking life of one of the most influential women in British history. 'The Iron Lady' is an absolute must see for younger generations who missed out on history classes and also for elder generations to re-experience this chronicle of events.
A memorable quote of Thatcher is as follows: "It used to be about trying to do something. Now, it's about trying to be someone". Meryl Streep triumphantly accomplished the audition to play Margaret Thatcher and if she hasn't already been 'someone' in Hollywood, she definitely is from now!
Comments
comments