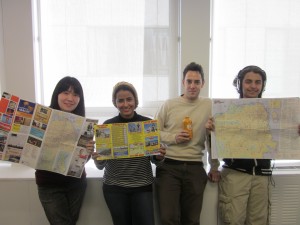 Do you love your new EC water bottle? Are you making the most of it during weekend day trips across the Bay Area? If you think you've got the EC school spirit we're looking for, then this competition is for you!
For this month's online competition, we want you to send us a picture with your water bottle on display, at an impressive, fun-filled location outside of class.
The student who can provide us with a picture that is totally unique will receive a FREE! ONE-ON-ONE with one of your favorite teachers.
This session can take place either in-class or through Skype online! So, even if you're an ex-EC SF student abroad, who still loves to represent our official water bottle, we'd love to see what you're up to.
Show your water bottle the love it desrves and send us a picture via the email address below to win your one-on-one session with Amol, Tess, Kelly or Harrison.
All competition entries should be sent to sanfrancisco@ecenglish.com. Our winner will be announced at the end of the month.
Happy Photos EC!
For some great examples, why not check out EC New York on Facebook and inspire yourself to victory!
Comments
comments