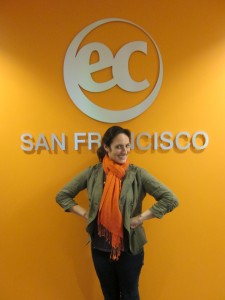 How long have you been with EC?
Since July 2011.

In which other locations have you taught English?
Obviously ICAE (now EC San Diego), is the first place which comes to mind. I've also taught in Brazil and Guatemala.
In your mind, what distinguishes EC from other language centres?
We have a sense of vibrancy and freshness here for everyone to experience.
Favorite English expression or grammar point:
Fantabulous (Fantastic + Fabulous)
Must-see place in San Francisco Bay Area.
Rockridge in Oakland!
Bay Area sports team of choice.
San Francisco Giants
BART or MUNI?
Both!
Favorite transport route?
'The Wiggle' bicycle ride.
Comments
comments