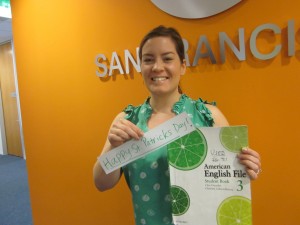 On March 17th, millions of people gather in green to celebrate the national Irish holiday St. Patrick's Day. But who is St. Patrick?
Surprinsingly, St. Patrick himself was not from Ireland. What? That's right! St. Patrick was born in Great Britain (around AD. 390 to be precise) and kidnapped at the age of 16, before being sent overseas to Ireland. It is rumored that Patrick heard voices telling him to escape before he was able to escape via a ship back to the British Isles. It has been told that this very same 'voice' inspired Patrick to return to Ireland, where he served as a bishop attempting to spread the postive teachings of Christianity.
Folklore goes on to inform us that Patrick continued to have a bad experience after returning to Ireland. For example, he was bullied by native-Irishman and abandonned by his English friends. Patrick died on March 17th, AD 461 and at that time was quickly forgotten. After years gone by, Patrick's legacy grew stronger and he is considered today as a 'patron saint' of Ireland. New age St. Patrick's Day participants wear a green clover in respect of Patrick. According to history, the three leaves of a clover were used by Patrick to explain the fundamental beliefs of Christianity, considered the 'holy trinity'.
Interestingly, St. Patrick's Day was not an acknowledged holiday in the United States until the 1970s.Then, Irish charities would usually celebrate St. with large meals and lively parades. These celebrations mainly took place across the East Coast in cities such as Boston, New York and Chicago, whose citizens often had irish ancestory from across the other side of the Atlantic.
Today, in most cultures and societies, St. Patricks Day is considered a combined celebration of both the Irish nation and the new Spring season, with people wearing playful green clothing and having the odd pint of Guiness (Ireland's no. 1 selling stout).
Ref. http://news.nationalgeographic.com/news/2011/03/110316-saint-patricks-day-2011-march-17-facts-ireland-irish-nation/
Comments
comments