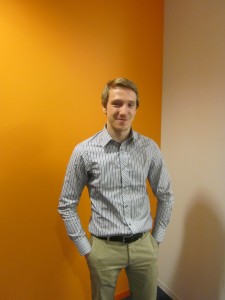 How long have you been with EC?
I came to San Francisco in June 2011, although I started at EC Cambridge in November 2010.
In your mind, what distinguishes EC from other language centres?
As soon as you walk through the door, it's obvious that our centres are very vibrant. However, you don't need to pay attention to the orange walls to understand that this is a fresh, energtic place to learn English. We have a great culture here and build a community that both staff and students may share as one.
Favorite English expression:
The bees knees (excellent or of high quality)
Must-see place in San Francisco Bay Area
That's a tough one! I'd say Sausalito. Life's cool by the water and everything seems to slow down. I should go there more often!
Bay Area sports team of choice
Golden State Warriors. I'm with Amol on that one!
BART or MUNI?
BART. Everyday!
Favorite transport route?
Golden Gate Ferry from Embarcadero to the North Bay. Take a look at this music video from the Stereophonics to see where I'm coming from!

Comments
comments