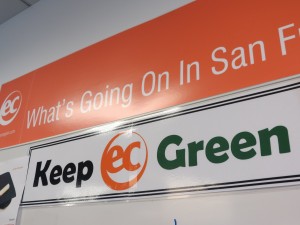 On April 22nd, nations across the globe will come together in celebration of Earth Day 2012- a holiday intended to raise environmental awareness to appreciate our planet Earth. North America in particular uses the holiday in order to celebrate the earth's natural landscape and the population's efforts to reduce landfill waste and pollution.
Below is a list of 6 ways YOU can 'go green' and help save the earth.
Lights out!
It might sound simple, but it is surprising how many people continue to waste valuable electrical energy by forgetting to turn off lights that are carelessly left on. Whether you are at home, work or even still in school, take action and turn off the lights in any unused classrooms.
Use cold water for laundry
This may sound strange at first but saving hot water for when your dirty laundry really needs it will be of no harm to you and is great benefit to the environment! The next time you do laundry, consider the cold option. You will be surprised at how clean your clothes will turn out.
Buy a water bottle!
Luckily, all EC students are entitled to a FREE metallic water bottle! They're great for carrying around the city and a fantastic way for you be eco-friendly in school! Stop re-filling up plastic and get your water bottle at the front desk today!
Make the most of reusable containers
Not only are plastic containers perfect for taking your lunch everyday, but they prevent you from carrying food via napkins and plastic bags. Convenience stores such as Walgreen's and CVS both sell affordable sets that will last you a lifetime!
Ride your bike!
Cycling is a great form of exercise and helps the environment save its supply of natural gases that are rapidly being used up through cars and public transportation. Walking, when possible, is also a nice alternative.
Recycle with care!
San Francisco is well-known for it's inhabitants' environmental awareness. Be sure to place paper, cans and plastic in bins as instructed. With today's color codes for separate bins, there is no excuse! Moreover, think carefully before throwing away anything you possess. If it can be reused, make the most of it by donating to a charity shop or saving the likes of scrap paper to help make study notes.
Comments
comments