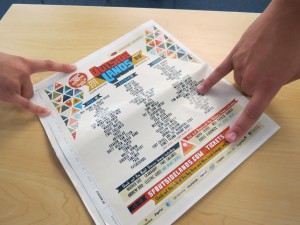 Who said we can see many rock stars at Starbucks in San Francisco? If I remember rightly, it was Eric Martin, the vocalist of Mr. Big, who has been in the Bay Area since 1980's. To tell you the truth, I got excited when I read this in a magazine. However, since arriving in San Francisco I have seen a number of Starbucks. I thought to myself, 'don't be disappointed- this was to be expected'. If there are people out there still dreaming of seeing these stars, they should go to the Golden Gate Park on the second weekend in August.
The Outside Lands Festival (aka Outside Lands) is a music festival that has been held annually since 2008. The title was named after the nickname of western neighborhoods in 19th century because once there was nothing but a vast wasteland. According to the official web page, the festival will take place at the Golden Gate Park, amongst the Polo Field and Lindley Meadow. Outside Lands also satisfies the human desire for food, drink and comedy, whilst there is plenty of outside artwork on display.
Last year's line-up was as good as it get with both Kings of Leon and Muse making appearances. This year's headliners include legendary musicians Neil Young, Metallica, and Stevie Wonder. Personally, I want to see Metallica as a loyal heavy metal fan, but I am not sure if I can survive in so many people who are eager to be right in front of the stage. Even if you're not a die-hard music fan, there will be enough musical talent to draw your attention: Foo Fighters, Beck, Jack White, Norah Jones, and Tom Morello (former guitarist of Rage Against the Machine and Audioslave). Need I say more?
When it comes to buying tickets, getting directions, and making detailed plans, these hyperlinks below are full of facts!
– Ticketmaster
– StubHub
– Official web page
From August 10 to 12, I consider this the highlight of the summer. Hopefully you will feel the same after visiting this festival.
References:
1. Wikipedia "Outside Lands Music and Arts Festival". http://en.wikipedia.org/wiki/Outside_Lands_Music_and_Arts_Festival
2. Wikipedia "Outside Lands". http://en.wikipedia.org/wiki/Outside_Lands
3. Outside Lands – 2012 : Music – Food – Wine – Beer – Art. http://www.sfoutsidelands.com/home/
Iuha Park (EC Student Ambassador)
Comments
comments