Santiago, a student from Venezuela, has been studying English at ECSF, an English Language School in San Francisco.  Recently he had a food adventure in Baker Beach with other EC students.  Read about it here!
A few weeks ago I went to Baker Beach to have a barbecue with some friends of the school.  They thought it was a nice idea to eat and relax with some people so I decided to go.  I live in the inner Richmond, it's just 20 minutes from my house to get to the place so I was the first to arrive, most of my friends live in the downtown area and they decided to go to japan town first to get some food and drinks…Of course!  A bbq without food is not very fun hahaha.
 
Once we all were in the Baker Beach we start cooking the food very quick (hunger I guess), my friend chan is a professional, his specialty is set A LOT of fire to the barbecue to the point everybody says "woow."  The food was delicous.  We had meat, salad, some snacks and drinks.  I liked this Multicultural barbeque, watching my Korean friends cooking while eating Japanese snacks, drinking American drinks and of course listening Latin American music. (:
 
If you want to chill and eat with some friends, Baker Beach is a very good option!  The place is nice and it has an excellent view of the Golden Gate Bridge!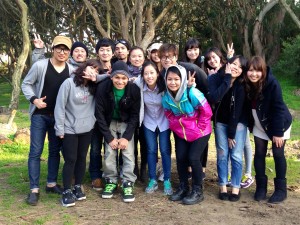 Comments
comments