At ECSF, a downtown English language school in San Francisco, we offer a Communication for Business class that focuses on entrepreneurship and includes a string of guest speakers.  Sam Catalina, an owner of Prudential Real Estate Company, spoke to the students last month about a variety of topics related to business.  Afterwards, the students wrote essays summarizing and analyzing his lecture.  This stellar essay was written by 3 ECers: Aynur Ismailova, Carlos Rombaldo, and Eugenia Schall.  Great work, students!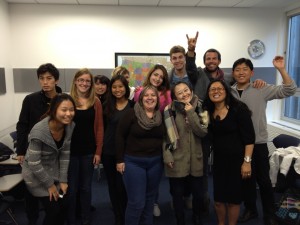 On February 12th, 2013, in our business class we had a special visitor Sam Catalina – an owner of Prudential Real Estate Company, a professor at CCSF City College, a director of a bank and also a good family man.  He told us about his own background and his friends' experiences.  The purpose of this visit was to show us the many opportunities and possibilities that exist to start a career.  Below we highlight some details about his speech.
                The speech was about good and bad experiences from his and his friends' lives, showing in different ways how we can reach our dreams.
                A couple of words about his background.  His parents are originally from the Philippines, but he was born in the USA and grew up in San Francisco area.  He has been married more than 40 years, his wife is a teacher.  They have 3 children: a girl – she is also a teacher, and 2 sons – one is an orthodontist, another one is a manager in a large sporting goods store.  His favorite hobbies are cooking, singing karaoke and race car driving.
                He got in the real estate business when he saw his neighbor driving a lot of new fast cars.  After taking classes and educating himself, he applied for a job in a big company.  It was fortunate that he was not immediately hired.  First he had to deal with that refusal, but afterwards he decided to look ahead and applied for another job in a smaller company.  This was his breakthrough.  At the beginning he earned a lot of money.  But he didn't save any money, and lived just for today.  When difficult times came, he suffered the consequences and lost almost everything.  He was very close to losing his own house.  After that time, the main lesson Sam learned was – "save more than spend."
                He explained to us what it means to be a US citizen: it is not a skin color or religion, it is much more.  It's a way of life.  In his opinion, in the states, every person (even foreigners) can become successful and reach the American dream.
                He gave us examples of real life stories that happened to him and his friends.  The first one was a Philippine guy.  He came to the US on a boat and couldn't speak English.  He was hired for a real estate job though.  When Sam questioned the manager about why he had hired him, his answer was: He had ambition in his eyes.
                The second story is about another friend.  He got married for the first time at the age of 21, and had children.  He's been divorced twice, and he didn't even have enough money to repair the roof on their house.  He understood that it couldn't continue any longer.  The situation must change.  He not only changed this situation, he became a millionaire.
                By these examples, Sam wanted to explain to students that if you have a burning desire to create a new business and you do your  best, you can succeed.  And you don't need to be educated, experienced, or even have money.  You just need to follow your dreams and you'll be a successful and rich person.
                All these things don't make any sense if you don't have somebody special in your life.  It is the only thing that Sam wished for his own children.
                Summarizing, today to find a good job is much harder because of high competition in the labor market.  It is possible to organize your own business.  But more important is being happy.  That is why every one of us should decide what exactly makes us happy and develop ourselves in this direction.
Comments
comments