Here at ECSF, an English Language School in San Francisco, we provide a variety of after-school activities.  Those who participate have the opportunity to explore our beautiful city while getting to know other students.  But, most importantly, our activity program gives students the chance to practice their English outside of class!
Yesterday we had Coffee Club, which is always one of our most popular activities.  It's led by our student ambassadors, student leaders who have been at ECSF for an extended period of time and are experts on the school and the city.  ECers gathered to chat, drink coffee, and eat snacks while engaging in lively conversation.  Coffee Club is a chance for both new and old students to come together and discuss various topics.
If you'd like to take a look at pictures of Coffee Club and other fun activities, make sure to check out our Facebook Page!
Click the link: https://www.facebook.com/ec.san.francisco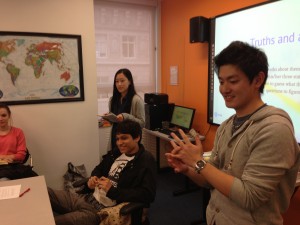 Comments
comments