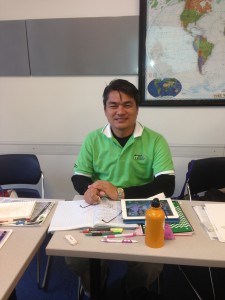 Pongpanote Phongpanngam is taking an 8 week intermediate level English course in  San Francisco. A technology teacher from Thailand, here is what Pong says about his time at EC.
"Hi, I'm Pong from Thailand.  I studied English for 15 years when I was a student in Primary school until university.  It hard to understand grammar, so I didn't have self confidence to use English with foreigners until now.  I couldn't speak with good accent, used the wrong tenses, sometimes incorrect vocabulary and always used broken English. I didn't care, that was their problem, not mine (I thought) but it made me afraid every time I used English with anyone.
Three weeks after studying English with EC San Francisco (with teacher Judith and Tim R), I can feel my English skills changing and seems all my problems are leaving.  I am very happy to be here.  All staff of EC are very kind and helpful.  There is technology in all classrooms and so many students from around the world trust to learn here.  They're very friendly.
I not only practice in class. I get more experiences by joining special activities such as "The Hood" (with teacher Gifford) for an in depth class that explains the history of different San Francisco neighborhoods.  In addition I can practice speaking and sharing with friends in speaking class (with teacher Laura) and so on.
Thank you EC School, no "broken English," my self-confidence is coming back.  I have a very good chance to learn here and this is the best thing in my life."
Comments
comments