One of the icons of San Francisco is the Golden Gate Bridge.  Most tourists try to see it, and there are a nearly infinite number of images of the bridge.  Yet most of them are seen from the City (Marina district) side.  However, the bridge does have two sides, and from the Pacific Ocean side of the bridge, one can get less common views.
Perched above Land's End Beach, almost as far west as one can go in San Francisco, is one of SF's four major art museums.  When you study ESL abroad at EC San Francisco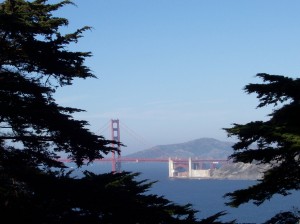 if you love European art, or just great views, you owe it to yourself to make the journey to the Legion of Honor Museum (formerly the Palace of the Legion of Honor).  The building is the most classic of the SF museums in design, and houses mostly the European collection, along with frequent touring exhibits.  Recently it featured a collection of art and artifacts from the Louvre in Paris, not the museum, but the Palace.  Part of the collection included personal art objects belonging to Marie Antoinette.
While the Legion takes some time to reach (about 45 minutes on the 38 Geary, a two block walk, and a transfer), the views, the architecture, and the collection (including a whole room devoted to Rodin, including "The Thinker") make the effort more than worthwhile.
Comments
comments