Without question, Yosemite is famed worldwide as a place of spectacular natural beauty.  If you could only visit ONE place when studying ESL at EC San Francisco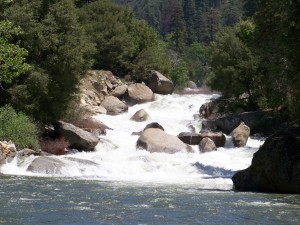 , I would say it should be Yosemite.  However, after living in California for decades (I won't say how many), and going to Yosemite at least 30 times, I recently visited a much less known, but also lovely, National Park a short drive south of Yosemite.  If you want to experience the Sierras without the business of Yosemite, or the traffic of Lake Tahoe, you should consider Sequoia-Kings Canyon.
Sequoia is home to the most massive trees on Earth (although not the tallest).  In addition to their huge size, some of these trees are as much as 2500 years old.  Standing next to one makes all of human experience seem rather insignificant (which I think may be good for us once in a while).  Kings Canyon is a river valley similar to Yosemite, surrounded by cliffs and mountains, with meadows, a rushing river, and waterfalls (although less spectacular than Yosemite Falls).  However, what you lose in visual impact, you more than make up in tranquility.  The last time we were at Yosemite, it took us half an hour to travel about one mile, due to bumper-to-bumper traffic.  In King's Canyon, we only saw about twenty other cars in two hours.
If you visit these parks, enter from (and maybe stay in) Three Rivers, a small town the stretches for several miles along a rushing river.  Our motel room, on the second floor, looked across a small lawn to the same river, no more than 30 meters away.  At night we fell asleep to the rush of water.  In the morning, we awoke to birdsong.
From Three Rivers, you climb slowly (20 miles per hour) out of the river canyon, and up, up, up into the Sierras, until you suddenly reach the realm of the giant trees.  We were there in May.  Near our room, it was almost desert-like, and the Yucca were in spectacular bloom.  As we climbed, we reached meadows filled with multicolored wild flowers  –  yellow buttercups, orange poppies, red clover, and purple wild lupine.  It was "shirt-sleeve weather"  –  not hot, but deliciously warm.  Within 45 minutes, we needed jackets, since, continuing to climb, we began to see pockets of late snow (the park is closed in winter).  Wherever we stopped, there was birdsong, and in the course of the two days we were there we also saw bears, deer, a fox, and a coyote.
The only downside is that you really need a car to get there, and to enjoy the park.  Amtrak (America's passenger rail service) runs tours to the park, but then you are sort of at the mercy of the tour, and can't go where you want, when you want.  However, it's worth getting a group together, renting a car, and heading out.  From San Francisco, it takes about 6-6 1/2 hours.  (Oh, and staying at Three Rivers is a lot cheaper than staying anywhere near Yosemite, and there is lodging in the park, as well as ample camping spaces.)
See you next time, checking out more of the less-seen places in and around San Francisco.
Karl
Comments
comments