In order to get into a university, to get a better job (or advance in a current position), or simply for the experience, many students of English as a Second Language decide, at some point, to take one of the "high stakes" English tests  –  frequently the TOEFL (for admission to many U.S. universities) or one of the Cambridge Exams.  EC San Francisco, in line with all EC locations, offers both TOEFL and Cambridge prep classes.
It's certainly possible to prepare yourself for these exams without taking a class.  There are many well-designed prep books that can help you build on your English skill and get you ready for the test.  If your English level is already nearly fluent, you could certainly do this.  However, most students feel more confident, and are better prepared for the reality of the test, if they take a course similar to those offered by EC San Francisco.
A good test prep class should have a number of features.  First, it should not promise you a specific score.  I've been teaching ESL for 20 years, in a variety of locations, and I've never seen anyone, or any method, that could do that.  More importantly, the class should help you prepare for the specifics of the exam, but also build on, and stress, the ongoing development of your English skills.  It does you no good to get a high TEOFL score and get into Stanford University if you then cannot understand the lectures or the readings, and get failing marks on the papers.  Therefore, a good prep class should continually make connections between the tasks on the test, and the real-world applications.  And finally, as at EC San Francisco, your teachers should be fluent in English, and highly trained as educators.  In all my years as a teacher, EC San Francisco has the most qualified (and creative) staff I've ever worked with.
So, if you're thinking about taking one of these tests, get in touch with us.  San Francisco is a world-class city, and EC is a world-class chain of English schools.  What a great combination!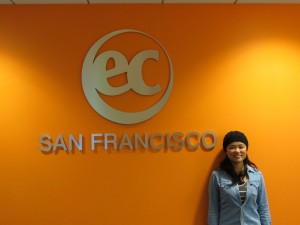 Comments
comments