Hi.  My name is Jenny.  I'm an adult student studying English at EC San Francisco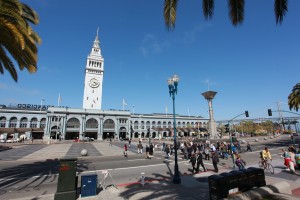 .
On Wednesday, [our class] went for a walk.  The first stop was the Hyatt Regency.  The hotel is very luxurious and beautiful.  Many, many lights hang down from the ceiling in the lobby restaurant make me feel I am in Christmas time.  It was really a nice place.
Also the hotel had a touring exhibition about Alcatraz, and you could go in a cell, and see how they lived.
Then we walked more down the Market Street, and went to the Ferry Building.  This is a historical place for San Francisco.  We walked around the corridors, and found many small shops of food.  Some of those stores had tasting, like olive oil [on bread], chocolates, or fresh vegetables.  We stayed at the Ferry Building like 30 minutes, and then we walked back to school again.  [Now I'm writing about it.]
Going out was really fun for me, because I could talk with classmates, and know new places for me like the hotel.  Also we could change the mood.  Having an outdoor activity makes the class more interesting.
Comments
comments