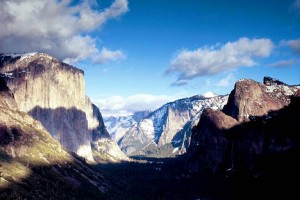 If you're just an urbanite, and you can't see the point of life without a club scene and shopping, skip this post.  On the other hand, if the natural world calls to you, if you are in California, you must see Yosemite.  And it's really convenient to visit Yosemite if you are studying English at EC San Francisco, because it's just a 5 1/2 hour drive (or 6 1/2 hour train trip).  While Lake Tahoe is very popular, both for gambling and the lake itself (one of the most beautiful in North America), Yosemite is more famous internationally, and for good reason.
I'm not sure how many times I've visited Yosemite.  Well over 30, because my parents took me twice a year (Spring and Fall), starting when I was 5, and ending sometime when I was in college, and I've been there since as well.  I never tire of it.  The towering cliffs, the Merced River's green stillness or frothing rapids, and, of course, the waterfalls, make the Valley unique in the world.  There is now a free shuttle service, so you don't have to be trapped in your car (or even have one), and they have reduced the number of lodgings and campsites, so the crowds of the past are gone (although there are a lot of visitors in Summer).
I've been to the Swiss Alps, and the Canadian Rocky Mountains, and both are magnificent, but if you love mountains, and you don't visit Yosemite (either the Valley, or the backcountry), you are making a huge mistake.  So, when you come to EC San Francisco, either to brush up your English or to prepare for an American university, set aside some time (even a weekend is worthwhile) for this queen of the Sierras  –  one of the jewels in the crown of the U.S. National Park system.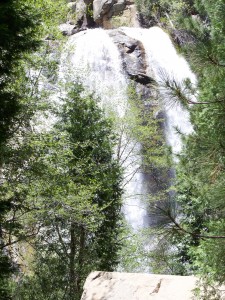 Comments
comments