Hi, my name is Seiya. Since Aug 5th, I have been working here, at EC San Francisco as an intern. Since many people have asked me and might be wondering why I am doing an internship here, I will write it on this blog!
I live in Japan and I'm currently a student at a University in Tokyo. When I was 5 years old, I moved to a place nearby Orange County which is located about 1 hour away from LA. I lived there for 5 years with my family and made many good childhood memories. I went back to Japan at the age of 10. I took private English lessons and went to University to study English literature. Obviously I love ENGLISH. Thanks to my parents, now I see a totally different world! I became more eager to use and improve English in different kinds of situations. And so I decided to work in the United States during my summer break. Here, I can meet many people with diverse nationalities and culture. All the staff and teachers are very kind and friendly. I have learned a LOT from them and the people I've met so far. Time really flies fast here. I will be interning until end of September and will be posting blogs about ECSF and experience during my great opportunity working at EC San Francisco!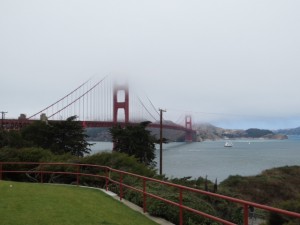 On my 1st weekend in San Francisco, I went on a cycling tour to The Golden Gate Bridge! I definitely recommend crossing the bridge by bicycle. The bridge is huge and it took longer than expected to get to the other side. The bridge has the length of 8,981ft(2,789m)! Takes 40mins to cross by foot. And can you imagine how much effort the people make to keep the unique red color of the bridge? The color is actually repainted all year around and is chosen so that it is noticeable even in the fog covering the city. After crossing, you will see the spectacular view of San Francisco. After taking photos, go to Sausalito where the wealthy people go to live in the sun. You will find cute houses and many small restaurants to eat. Have lunch there and relax under the sun. For your way back, you can either take a ferry or go back as you came. I should've taken the ferry… Anyways, wear sneakers and prepare a backpack to enjoy one of the most beautiful views of San Francisco.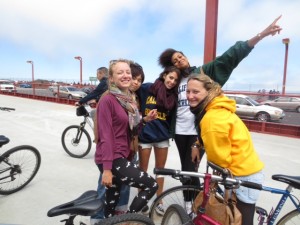 Comments
comments