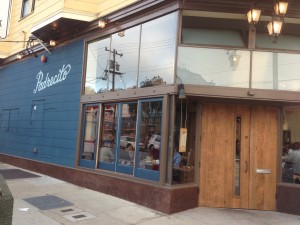 Hi ECSF students and blog readers,
My name is Tim Ruiz and I'm a senior teacher at ECSF. Since I moved to San Francisco a decade ago, I have been astounded by the many great restaurants this city has to offer. The diversity of foods can sometimes be overwhelming. Cole Valley's Padrecito is a shining example of the culinary greatness that makes SF second to none.
Padrecito is a fantastic Mexican restaurant located at the corner of Carl and Cole streets in Cole Valley, a great neighborhood bordering Haight Ashbury. The atmosphere of this place is as lively and diverse as the food and drinks featured on the menu. This place has a stellar offering of items to choose from but without a doubt their hallmark items are tequila and tacos!
Padrecito features a vibrant and friendly staff that are quite eager to offer great suggestions and add an air of friendliness that make this place one of the busiest locations in the area. Reservations on OpenTable are almost always booked a week in advance, especially on the weekends, but the staff keep half of the tables in the restaurant available to walk-in customers so don't be afraid to stop in. You won't have to wait long.
Padrecito features a full bar that specializes in tequila based cocktails but also offers a great variety of beers and wines. The Piñata cocktail is fierce and not for the timid but is quite smooth, made with reposado tequila, pineapple juice, rosemary, lime, and jalapeño. This cocktail has a real bite but it's well worth it.
Although this place excels at pretty much everything, the premier items are tacos. Padrecito has a wide range of tacos with a number of different meats, including grilled char, goat, pork belly, duck, and skirt steak. By far and away my favorite were the calamari tacos. Of course, no Mexican dinner would be complete without chips, salsa, and guacamole. Theirs are some of the best I've ever had in SF.
Do yourself a favor. Get your friends together on a Friday night and catch the N-Judah train to Cole Valley. Padrecito offers a uniquely San Francisco dining experience that you won't soon forget.
Padrecito
901 Cole Street (at Carl Street)
San Francisco, CA
94117
415-742-5505
www.padrecitosf.com
Comments
comments