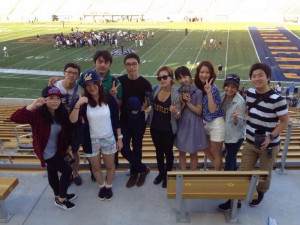 I went to the UC Berkeley football game with my classmate to watch an NCAA football game with the California Golden Bears versus the Portland State Vikings last Saturday. I have never seen a football game, not even through broadcasting. It is not a famous sport in my country, Korea. However, I wanted to know why many people in America are so enthusiastic about football.
To tell the truth, I would like to watch a 49ers game in the stadium. Unfortunately, the ticket price was more expensive than I expected. Therefore, I tried to find a cheaper ticket or watch an amateur game. While I was web surfing, I found a match for the CAL Bears versus the Portland Vikings at UC Berkeley. Besides, the ticket prices were not so expensive. It was such a great opportunity to watch a football game in the stadium. I went with 13 ECers. Most of the ECers didn't know how to play football. However, they also wanted to watch a football game.
The day of match, the weather had never been better. Before the game, there was a performance by the big band and cheerleaders. They made the atmosphere of the stadium fill with excitement. The game took almost 4 hours. However, nobody felt bored during the game. Personally, the result of the game was not important. To feel the atmosphere of the football game was more important than the score. In the end, the CAL bears won the game. I could feel a true spirit of camaraderie during the game. Besides, to watch a football game gave a whole new meaning to me.
I'd like to watch a game again. Of course, I highly recommend watching a football game in the stadium whatever it will be a professional game or amateur game. If you have a chance to watch a 49ers game and CAL bears game, you will compare the atmosphere of the stadium.  At last, I'd like to give tips. Before going to the football stadium, make sure to wear the colors of your team. The colors of CAL bears are yellow and navy blue. Moreover, it is 100% okay to shout loudly 'Go Bears!' in the stadium.
Comments
comments