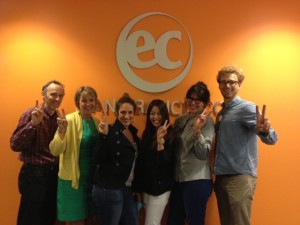 Hi ECSF Readers,
My internship at EC San Francisco is coming to an end… I had spent a wonderful and exciting two months here in San Francisco. I've seen many parts of the city and traveled outside of the city. Most of all, I got to experience many things as an intern at EC.
Working for the first time in the United States using only English and working in a completely different environment, I got to discover and experience many things. And since EC is an English school for foreigners, I had the opportunity to meet people from all over the world. Working at EC, I learned a lot of useful business English and business style. However, I have also experienced a lot of confusion because of cultural differences. For example, calling my senior coworkers by their first name without adding any title felt impolite and inappropriate at first. Now that I'm used to it, I feel more comfortable about it. It makes it easier to communicate with each other, which is very important in business. If I do that in Japan, it would be very rude and disrespectful to my seniors. It is important to understand the culture of who you are working with. At EC, there are many teachers and staff that are interested and have experience working or traveling in foreign countries. There are so many things that I have learned from them. I really appreciate the admin staff for teaching me everything from the very beginning and for always supporting me. I am absolutely going to miss everyone from EC.
Other than EC, I will miss life in San Francisco.
Life in SF consists….
-Frozen Yogurt (froyo). I am addicted. It is on the first floor of the building. My favorite flavor is yogurt with strawberries, cones, orange chocolate etc…
-Dolores Park. It is located in the mission district. It is a very nice place to relax and hang out.
-Security men. Every morning when I go to work, they greet me with a warm smile.
-The Monastery. It is my home in SF.
-Lee's Deli. I got lunch from there quite often. They have variety of food to choose from. My favorite is brown rice and orange chicken.
-Korean. I have met so many Korean people at EC. Now I pretty much know Hangul (Korean Characters).
-Coffee. It made me work faster.
-Big Salad. It is the healthiest meal in San Francisco.
-Hippie People. I was always amazed by the unique hippie fashion in San Francisco. You can see a lot of them at Dolores Park.
Thanks to everyone for all the wonderful memories I've made and great experience here in San Francisco. Being at the front desk every day and helping/talking with students was the loveliest tasks I've had here. I will never forget EC and the people who I've met. I hope to come back to visit someday!!!! Thank you soooo much 
Seiya
Student Service Councilor
Comments
comments