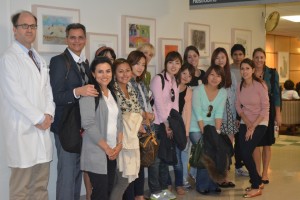 EC English students were led by Brazilian doctor Edinaldo Torres, MD – Vascular Surgeon (second from left).  They visited Stanford Hospital & Clinics in the city of Palo Alto on October 4, 2013. The delegation was composed of physicians, nurses, nutritionists, human resources, journalist, and others, totaling 13 visitors, all  students at EC San Francisco, a San Francisco English School!
The students were guided by Sheila Tost (Medical Services International Business Development Manager) and Robert Isom, MD (Clinical Service Chief, Division nephology & Clinical Associate Professor of Medicine) who presented the infrastructure for atendance, study, research, humanization of the hospital and future challenges, such as building a new hospital that is already underway.
Dr. Isom answered specific questions for doctors and nurses detailing the great advances in health developed at Stanford University.
All the students were fascinated with the humanization of the hospital and the great challenges for the future.
Comments
comments