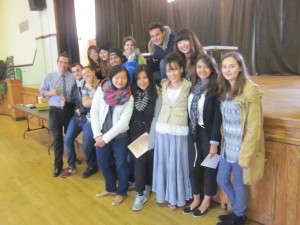 On the 24th of October, 2013, Global Citizen class students visited a local San Francisco elementary school. Does everybody know about this class? It took more than one year to take place, is a new idea for EC to improve our English skills. The aim of this course is to develop English language skills through cross-cultural understanding by connecting EC students with local elementary school students. This course focuses on building language competency skills through a communicative method that targets the natural use of common expressions, vocabulary, grammar, and idioms in English as well as other languages.
This class began on 8th of this October. Since then, we have been learning about colors, superstitions and several associated idioms. It is said that these are closely related to our ordinary lives. We learned not only the meanings which are based on the American society, but also the meaning from each of our various countries. On that day, we were separated into six groups and each had a task to introduce about the meaning of colors, superstitions, and idioms. It was the first time for EC students to visit an elementary school so everyone was exited.
At first, I was a little nervous because I was not sure if I would teach them well or not. But when I meet the elementary school students, my uneasiness vanished. They were very cute, friendly, generous, and spontaneous. Even though it was the first time we met each other, they talked to me as if we were old friends. They were really full of curiosity. On one occasion, they said a word which I didn't know, so I asked them the meaning of it. Then they explained it for me very clearly and carefully. I couldn't believe that they were younger than me because their English was much better than mine. I knew that it was natural but I was really impressed.
This experience was more wonderful than I expected. They inspired us to lean English more. They didn't care about the quality of our English so I could speak English with peace of mind. I really enjoyed visiting that school and talking with them. However, there are a lot of things I should reconsider. I will reflect upon that and try to use it for my next blog post. I'm looking forward to visiting and seeing them again. Thank you.
Misa
Comments
comments