Hi ECSF students and readers,
We are well into November but I wanted to take this opportunity to tell you all just how great Halloween was this year at our school. The halls were filled with zombies, mummies, vampires, dead cheerleaders, and many other great costumes. The staff looked great too, as many of us were zoo animals answering to our zookeeper, Center Director Cindy.
The classes did a great job of carving some very scary jack-o-lanterns for the pumpkin carving contest. I was especially proud of my class, as they won the contest and were treated to coffee and doughnuts the following week.
The highlight of the day's events was the costume contest at the end of the school day. As I walked around and showered students with chocolate and candy, I was pleased to see that many of the best costumes were on display for the whole school to see and vote for their favorite. The winners were Jose, Laura, and Camilo. I know I speak for everyone when I say it was the best Halloween yet at ECSF and we can't wait for next year!
Teacher Tim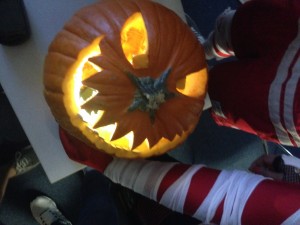 Comments
comments