Weird American Activities –GO SHARKS!-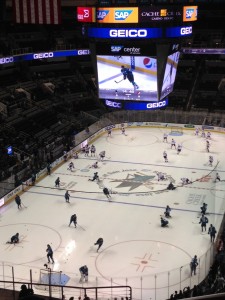 Hi ECSF students and blog readers.
My name is Kanami. I have been working at EC San Francisco since the beginning of October. This is my first time to write a blog and I am really excited about it.
Today, I want to talk about an American hockey game I saw a couple weeks ago as my first article.
I went to watch the game of San Jose Sharks and Phoenix Coyotes at the SAP Center in San Jose on November 2nd.  When I first got there, I was totally amazed by the scale of everything around the stadium. It was so huge and there were so many advertisements around. Both teams have a mascot and they are so entertaining. People just really loved their team.
The majority of people there were Sharks fans of as it was their home game. People were screaming for Sharks and waving their arms up and down as if they were sharks biting people. A guy sitting next to us spilled all his beer on my friend's new jacket because he got into the game too much.  I was too shy to scream like the Americans but I ended up being so enthusiastic about the game. Honestly, I did not know that ice hockey is really famous here and I didn't know the rules before I went to see it but I found that I really enjoyed myself and liked it even if the Sharks lost the game in sudden death. I found out that if you are a really good player on the team, it is like you are you are a Hollywood celebrity.
Watching sports always make us one big group even if we are complete strangers which is really good for especially international students like us. I definitely recommend it!
Kanami
Comments
comments